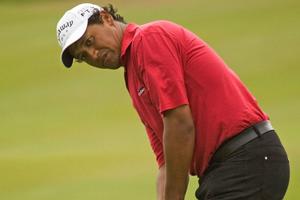 MUNICH - New Zealand golfer Michael Campbell has rejected claims he had breached etiquette during last week's US Open at Pebble Beach.
The story by a sports columnist for a little known California newspaper was picked up by bigger news outlets such as the Oakland Tribune and the Boston Herald.
Campbell was accused of `ditching golf protocol' by putting out on the 18th before his playing partners, American Paul Goydos and Korea's Seung Yul Noh, had reached the green.
Campbell, who won the US Open in 2005, said today the columnist's piece was totally inaccurate. It had been written after he would not grant the writer a post round interview.
"If this fellow was any sort of sports writer he would have checked the facts with my playing partners before writing his story," said Campbell who is contesting this week's BMW International Open in Munich.
"What this chap has written could not be further from the truth.
"I have always been obliging when it comes to the media but just because I said `No, not at this time' to this fellow who I have never ever seen before at a golf tournament, he... . (writes) a totally inaccurate story.
"He never spoke to me before or after any of my practice rounds nor did he approach me after my first round but just because I don't stop and speak with him after my round on Friday I am now accused of playing out-of-turn and putting out before my playing partners had reached the green."
Campbell said he had asked Goydos if he could play up to the green and was told that was no trouble at all.
"Then to distort the truth by saying I putted out before either Paul or the other player in our group had reached the green, is just absolutely ridiculous.
"I read his totally fabricated article - no where do I see any comments regarding the matter from either Paul or Noh."
Campbell's caddy, Roy Robinson, backed his boss.
"How can anyone standing behind the ropes hear what is said between players?" Robinson asked.
"If this guy was half a journalist he would have checked the facts before distorting the truth."
A second round 83 saw Campbell, 41, missing the US Open cut by 12 strokes and finishing 152nd in the 156-strong field.
- NZPA