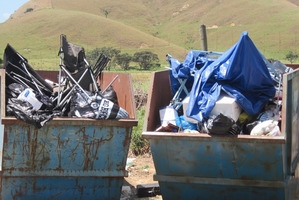 A reader writes: "These skips are used by campers staying at the DoC campground by the beach at Port Jackson, Coromandel. Both are full of near-new camping furniture. The camping furniture in question costs next to nothing, but it breaks in no time and ends up spoiling our lovely beaches and ultimately going to land-fill."
How to get fired in the US
1. Juan Canales worked in a restaurant in Fort Lauderdale. One day at work, he saw a woman being carjacked by a knife-wielding attacker. He rushed outside and wrestled the carjacker to the ground, then waited for the police to arrive. He was fired for the attention he generated.
2. John Preston of Cedar Falls, Iowa, was fired from his job for repeating his favourite television quote over and over again. Hardly enough to lose your job over? Well, maybe in this case it was the right move. Preston would say, "You're so good looking" rather than "bless you" whenever someone sneezed - as Jerry and Elaine did in one episode of Seinfeld. He repeated the joke over and over again, which almost always was directed at a pretty female co-worker. It was determined this was sexual harassment.
3. Fourteen lifeguards in California were fired after a video surfaced online of them performing a funny parody of Gangnam Style called Lifeguard Style.
The problem, apparently, was that they were wearing city-issued lifeguard swimsuits and put the video together at the pool where they worked. They countered that everything was filmed during their off-hours, and just for fun. Apparently, reasonable minds have prevailed, as the city voted to reinstate them a month after their initial firings. (See more at Listverse.com)
Mystery of Mayor Tim's missing Daimler
"While we know of the whereabouts of 12 of these big Daimler limousines here in New Zealand," writes Ross Stewart, "we've never been able to identify whatever happened to Shadbolt's Daimler from Waitakere. There is now no record with NZTA or Auckland Council or Tim Shadbolt of where it went from there. Overseas perhaps? Or re-registered with a different number plate? Do any of your readers know?"
Traffic officer missing the Christmas spirit
The week before Christmas, a parking officer in Nottingham, England, wrote parking tickets for drivers of two ambulances that were taking too long to board wheelchair-using schoolchildren who had just sung carols downtown to raise money for the homeless shelter, Emmanuel House. Following an outpouring of complaints, the Nottingham City Council revoked the tickets. (Source: News of the Weird)
Consume: If I won Lotto I would buy this...
Fashion faux pas: Whose idea was it to hang this Vogue photo shoot on Hurricane Sandy rescue workers? It was a really dumb idea.
Quick clip: Teaching your cat not to jump on the bench...
Classic clip: Video Dating 80s style...
Got a Sideswipe? Send your pictures, links and anecdotes to Ana at ana.samways@nzherald.co.nz