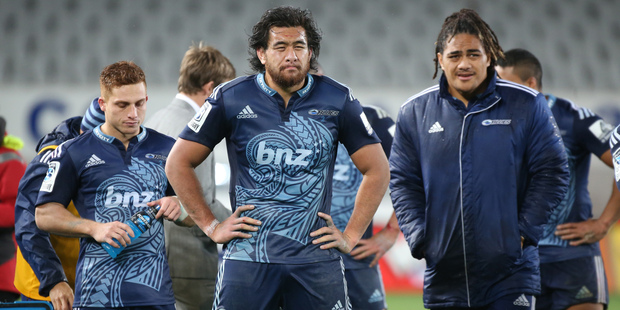 The Blues are consistent - 10th last year and again this season.
That's the upshot of winning 13 games and losing 19 in the two seasons John Kirwan has been in charge of a franchise which has flowered intermittently since their last 2003 title success.
It's almost like the Blues' failure has been brushed aside because it's expected, that's what they do, they are stuck in a cycle of under-achievement.
As most of the New Zealand focus turns to the work of the Crusaders, Highlanders and Chiefs in the playoffs, the Blues will go through their season debriefs and make plans for next year before delivering another version of onwards and upwards rhetoric.
Kirwan has no choice. It has to be that way because his job security depends on results and should, especially with the decision to extend his contract after one outing this year. That was either a show of faith or a gesture of hope.
It was a case of continuity because Mick Byrne and Graham Henry are leaving their coaching posts with strong replacements needed to give Kirwan and assistant Grant Doorey more ideas and sting about their production.
There will be player changes. Some will be through attrition with Jackson Willison, Benji Marshall, Ma'a Nonu, Chris Noakes, Piri Weepu and Tom McCartney gone or going elsewhere.
More may follow with particular focus at lock where Patrick Tuipulotu and Tom Donnelly carried much of the toll with replacement Hayden Triggs because of the season-ending injury for Culum Retallick and lack of impact from Liaki Moli.
"We've got a pretty solid team, we won't be changing too much but there are certainly some positions we will be looking at," Kirwan said at the end of the campaign.
"Nine and 10 are positions that need to be settled.
"We need to make sure they're consistent and our guys know how to win the tight games and prepare properly each week."
Kirwan needs to ponder his last statement intently and recite some mantra about settling on strong rugby talent.
His experiment with Marshall was wacky and a distraction.
Injuries to Baden Kerr were a slap but Chris Noakes, even if his frame was brittle, knew how to organise a game from five eighths while Ihaia West and Simon Hickey were young men training in that role.
When the Blues got it right they were a tough side to crack.
In a disrupted week when they cut Marshall from their roster and surveyed several poor previous results, the Blues bit back to beat the Waratahs who have surged into favouritism for an historic first title.
The Tahs recovered from that setback to dominate the points table while the Blues flip-flopped to three more wins and four defeats.
They can't deliver consistent performances and that has everything to do with the interaction between staff and players, selecting players who understand how rugby plays out at a higher level and getting onto the same wavelength.
Next year will bring another set of challenges with the focus narrowing towards the World Cup when the Blues test players will have their workloads monitored in the guise of preparation for that tournament.
That will hit the core of the Blues tight five as Kirwan and his staff look at playoff targets they feel are non-negotiable.
It will be another high-wire balancing act with no certainty of a safety net.