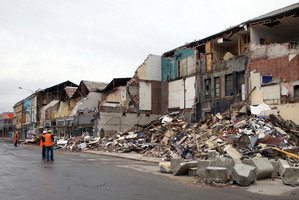 Councillors are bracing themselves for a dressing down by government ministers tomorrow over Christchurch City Council's failure to retain accreditation for building consents.
Crunch talks between city councillors, Mayor Bob Parker and Canterbury Earthquake Recovery Minister Gerry Brownlee and Minister of Local Government Chris Tremain will take place behind closed doors.
And all parties are staying tight-lipped over what will be discussed.
But councillor Glenn Livingstone is not expecting the minister to pull his punches tomorrow.
Previous behind the scenes meetings with Mr Brownlee have been described by some council officials as "wallpaper stripping sessions''.
He expects that Mr Brownlee will call for an urgent "culture change'' to take place within the council.
Asked if anyone should resign, Mr Livingstone said: "I can't see anyone coming forward of their own volition, unless there's pressure put on.''
Chief executive Tony Marryatt is not expected to be at the meeting, which will discuss the best way to resolve the consenting debacle.
Mr Brownlee says he will put all the "options on the table'', but his office declined to comment further today.
International Accreditation New Zealand (IANZ) yesterday revoked the council's accreditation as a building consents authority, after it failed to improve its consenting process over the last month.
However, the council will continue to issue consents even though they will no longer be approved by the independent authority IANZ from next Monday onwards.
Mr Parker said the move was unlikely to make any difference to the council, and it would be "business as usual''.
IANZ last month warned the council that they had to speed up the flow of consent approvals, or they faced losing accreditation.
The Government had also threatened to step in due to the local body's "repeated inability'' to meet statutory time-frames for processing building consents.
Staff from the Ministry of Business, Innovation and Employment (MBIE) had been sent to join the council's consenting department to help clear the backlog.
Council staff also had offers of assistance from other councils throughout the country, including the Auckland Council.
The council received an average of 35 building applications a day in March and April, according to the agenda from this month's planning committee meeting.
This workload led council officers to report: "We have seen backlogs develop across all process steps.''
Mr Brownlee had previously hit out at the council's slow response, saying: "The council knew this workload was coming and hasn't adequately addressed it''.
Labour's Earthquake Recovery spokeswoman and Christchurch mayoral hopeful Lianne Dalziel described the move as a "failure of epic proportions''.
Christchurch residents were today critical of the latest row between local and central government.
"I think everybody's almost had enough of everything,'' said Mary Ryan, retired of Hornby.
"We are trying to go ahead but everything's slowing up. The resource consents... they seem to be dragging their chains.''
Kim Hayde, a 52-year-old merchandiser of Opawa, hoped the Government would step in, because the current process was "too slow'' and was holding the rebuild back.
In Parliament today, Labour criticised the Government for not knowing about the consent problems, which were flagged as early as September last year.
Ms Dalziel asked in Parliament how Mr Brownlee had not known about the assessment report prepared in September and given to the council and MBIE in October.
Mr Brownlee said he had not been advised of the problems until June 7 but that IANZ had concerns about council's consenting process dating back as far as 2007.
"At that point I decided that this situation is intolerable and we have been taking action since that time and we will have further discussions with the city council tomorrow, because this situation cannot continue.
"I would note that the council has at all times been responsible for its own consenting and there has been quite a bit of public concern about the degree to which the Government was getting involved in council activities.
When asked if he had faith in Mr Marryatt, Mr Brownlee would not comment until his meeting tomorrow.
He said it was up to the council to decide if Mr Marryatt was performing.
Prime Minister John Key said he didn't have any advice on whether it was OK for Christchurch City Council to continue to issue consents.
"We will need to check and be satisfied that those consents have the proper accreditation and there are no downstream issues around insurance for someone that had a consent issued by the council,'' he said.
- Additional reporting Kate Shuttleworth