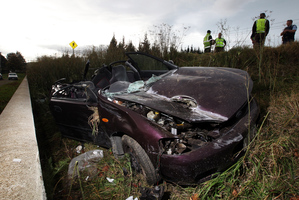 Life's not fair. And most of us, from the age of 3 onwards, understand that concept. The TAB wouldn't offer you any odds for the meek inheriting the Earth.
I know that it's difficult to formulate rules and regulations that are fair and just for all. But I really don't think it's fair that the mother of a Hawkes Bay teenager seriously injured in a car crash last June should be handed a bill for $1366 to pay for the costs of the road closure after the accident.
The New Zealand Transport Agency sent the bill to cover the costs incurred in traffic management after the crash.
According to the agency, there have been numerous incidents where it has sent out invoices to the drivers of vehicles involved in traffic accidents, and the majority of those have been settled. The costs have generally been paid for by insurance companies.
That was news to the Insurance Council, so this practice of loser-pays is a relatively recent one.
On first reading, there is logic in the drivers of vehicles that cause heartache and mayhem being forced to pay for the damage they cause.
But why go after teenagers whose offences are at the lower end of the scale? What about the drink-drivers and the speeding drivers who kill innocent motorists and close roads for hours at a time?
The newspapers are full of people who would be more obvious targets than an inexperienced driver who got into trouble on gravel.
The P-smoking Auckland woman who killed her daughter and left two other people seriously injured would be in my sights. Or recidivist drink-driver Jason Peters, who crossed the centre line after a day out duck-shooting and left a wife and mother brain-damaged.
I'm sure you have your own examples - all more obvious candidates for the agency's user-pays policy than a young driver who lost control of her mother's car and flipped it, causing injury only to herself.
The agency says a portion of the numerous taxes and licence fees we pay every year goes towards road maintenance, but where possible they try to recover the costs of damage caused by liable drivers in crashes.
That sets a worrisome precedent.
Will health boards start charging culpable drivers for the costs of their treatment? Will schools start charging parents for any extra support given to pupils who are struggling?
We pay our taxes, we pay our licences and we pay our levies so we don't get into that destructive blame-game of sue and counter-sue that we see in the US. If we end up going down that road, the only winners will be lawyers.