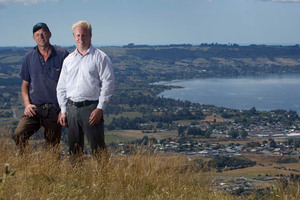 Rotorua MP Todd McClay (right) and Rotorua-Taupo Federated Farmers provincial president Neil Heather. Photo / Alan Gibson
Since the 1980s, scientists have been warning about the declining water quality in lakes around Rotorua, some of the country's most beautiful and popular. Their plight was highlighted in a 2006 report by the Parliamentary Commissioner for the Environment, which warned that long-term measures must be put in place immediately to ensure the lakes return to a near-pristine condition. In the case of Lake Rotorua, in particular, this has proved far easier said than done. Finally, however, there is reason to believe the lake's health is about to take a turn for the better.
That optimism is based on a compromise deal that has ended two decades of dispute between farmers, local-body authorities and conservation groups over nutrients that are worsening the lake's quality. The focal point of this confrontation was a planned Bay of Plenty Regional Council regulation that would have required the annual nitrogen load into the lake to be slashed by more than 300 tonnes to a sustainable level within 10 years.
That proposal heeded the concerns about the lake's health raised by Dr Morgan Williams, the parliamentary commissioner. But it also effectively ignored another of his recommendations, that the response to the threat must be co-ordinated and involve as much of the community as possible. Farmers wanted nothing to do with the plan once they had worked out its impact on their income.
This spurred Federated Farmers to go to the Environment Court to challenge the regulation. Its appeal has been running for two years and was set to continue until sometime towards the end of next year. The outcome would have had significant implications not only for farmers but for the local community. Farmers' income is crucial not only in terms of the viability of their own holdings but for its contribution to the regional economy, not least in jobs. The price would be too high if the cleanest lake in the world was achieved only by putting farmers out of business.
Fortunately, good sense has prevailed. A memorandum of understanding between the regional council, Federated Farmers and the Lake Rotorua Primary Producers Collective has pushed back the deadline for nutrient loading into the lake to be lowered to sustainable levels. Seventy per cent of the original target must now be reached within 10 years and the remainder by 2032. In return, Federated Farmers will withdraw its legal action against the council.
Some conservation groups are not satisfied with this compromise. They will continue to argue that warnings such as that delivered by the parliamentary commissioner and Danish water quality expert Erik Jeppersen, who has spoken of a "time bomb" of polluting nitrates in the ground, demand the strongest possible rules to limit water degradation. But that approach will not work while a key group is not only opposed to it but has initiated legal action that stymies an effective response in the immediate future.
There will still be a cost to farmers in production and profitability. This will, however, be much more manageable. Farmers should be commended for their willingness to bear that cost.
As the most readily identifiable source of the problem afflicting many of the country's lakes and rivers, they have always been an easy target and are always the first to be blamed. Some cynicism has always greeted pronouncements that dairy farmers, in particular, are serious about doing their bit in clean-ups. But their willingness to collaborate in the case of Lake Rotorua tells it own story. Hopefully, this deal represents a notable turning point and will be a template for other clean-ups of New Zealand's waterways.