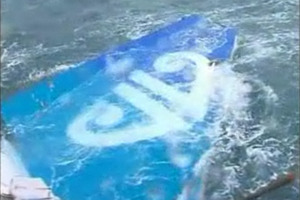 It was supposed to be a routine test flight. But at 4.46pm on November 28, 2008 (NZT) an Air New Zealand Airbus A320-200 plunged into the Mediterranean Sea off the coast of Perpignan in the south of France, killing all seven men on board.
One by one, the bodies of five Kiwi and two German airmen were recovered from the ocean by authorities, who then began the painstaking task of piecing together what happened in the lead-up to the tragedy.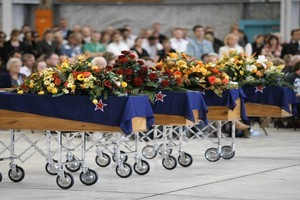 One of the first images that emerged with the crash news was the wreckage - the tail of the airbus submerged below the turquoise waters of the foreign ocean - which became a symbol of the tragedy.
Today marks the five-year anniversary of what became known as the Perpignan crash, and services are being held on both sides of the world in memory of Air New Zealand's Captain Brian Horrell, 52, engineers Murray White, 37, Michael Gyles, 49, and Noel Marsh, 35, Civil Aviation Authority official Jeremy Cook, 58, and German pilots Captain Norbert Kaeppel, 51, and co-pilot Theodor Ketzer, 58.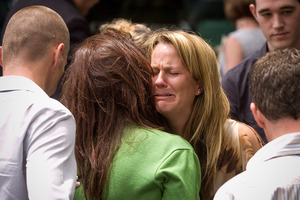 Among those attending a service in Perpignan are Captain Horrell's widow Shellie and their children Olivia and Logan, his brothers Nicol, Allen, Peter and Eric and sister Karen. It is understood the service is private.
A service will also be held at Air New Zealand's head office in Auckland, at the Momentum sculpture.
The sculpture was unveiled just before the first anniversary of the Perpignan disaster; which happened on the 29th anniversary of the Mt Erebus crash that claimed 257 lives.
It was designed to act as a focal point for those connected with the airline to "reflect" on the events.
An airline spokeswoman said, as with previous years, family, friends and colleagues of the Perpignan victims were invited to pay their respects on the anniversary.
The ill-fated test flight was carried out after the airbus underwent light maintenance and repainting in Perpignan. It had been leased to charter company XL Airways Germany for two years and was to be handed back to Air New Zealand after testing.
An inquiry established the crew lost control of the airbus after it stalled at low speed and low altitude. A malfunction in the avionics had also contributed to the crash.

The victims
• Air New Zealand Captain Brian Horrell
• Air New Zealand engineer Murray White
• Air New Zealand engineer Michael Gyles
• Air New Zealand engineer Noel Marsh
• Civil Aviation Authority official Jeremy Cook
• German pilot Captain Norbert Kaeppel
• German co-pilot Theodor Ketzer