Since the decriminalisation of prostitution, sex has become big business – and an attempt by two Wellington brothers to take over Auckland's lucrative industry could put them on the Rich List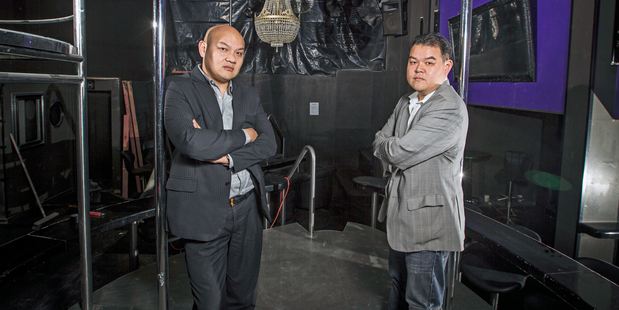 An All Black, a politician and a Middle Eastern prince walk into a brothel. This is not a tawdry joke, but a smattering of the clientele who have enjoyed the pleasures of John and Michael Chow's sex clubs.
The brothers brought the sex trade out of Wellington's seedy side streets and into the glaring spotlight when they opened their Mermaid strip club and brothel in the capital's Courtenay Place.
"People said we were crazy for opening a strip club in the middle of town, that nobody would want to be seen walking in to a brothel," says elder brother John.
Since then, they have snared up to 70 per cent of the capital's sex trade and they are about to launch an aggressive expansion for a similar share of the Auckland spoils.
The Galaxy Club on Gore St is an upmarket brothel where, for a couple of hundred dollars, men can spend an hour "exploring their fantasies" with Ivy, KK or Tyla.
On the ground floor, work is underway for the new Penthouse Club & Steakhouse.
The Chows are shifting their Mermaid strip club to a new site on Karangahape Rd. And the jewel in the crown of this gigolo duo will be The Palace, a gleaming 15-storey club on Victoria St, across the road from that other towering monument to sin, SkyCity.
Construction is being held up by a stoush with AIG Insurance over an unpaid insurance bill, which is set down for resolution in October in the High Court at Auckland. AIG corporate communications manager Nicola Vallance said the company was "unable to discuss the Chow Group claim at this time".
Once the brothers' businesses are up and running - in about four years - the Chows will employ 400 prostitutes across five venues, earning the Hong Kong-born brothers millions of dollars and providing the cashflow for their expanding commercial property interests.
It's an ambitious vision for two brothers who arrived in New Zealand in their pre-teens unable to speak English and who learned their business acumen working in their parents' takeaway store.
And the opposition aren't taking it lying down. Bryan Le Gros, owner of the White House, a Queen St brothel, says: "I am not scared but everyone is trying to make a living. The Chows have a monopoly and get away with it."
"We always had a code. It was like, you stay out of my town and I will stay out of yours. It was a bit like the old cowboy Westerns.
John has set up office on Queen St, trisecting the three sites. He's the numbers man who handles the new business, acquisitions. He describes himself as "behind- the-scenes" and a bit shy.
Michael has stayed in Wellington to continue running operations there. John has shifted his family to a $6.65 million Orakei mansion.
Family isimportant to the Chows - especially brotherhood. The unbreakable bond between John and Michael is the key to their success.
"You always trust your brother. For us, one plus one equals many, many ones. With two people, we can go 24 hours. I will work during the day and him during the night time."
They used to fight as kids - and Michael would usually win. "Just kids' fights. Nothing crazy, same as any brothers. There are not many businesses we have come across that have brothers together. It's quite powerful if you can work together - it's one of the reasons we are so successful. The good time you can share. The bad times you can share the stress."
Their relentless work ethic is summed in a story John likes to tell his employees. While getting his hair cut by his mother a few years back, she expressed concern that the boys were working too hard. "Because I'm the older brother, my mum tends to talk to me. She said to me 'why don't you guys slow down?'
"I said, 'look, everyone wants to enjoy their life but we have certain obligations. You can't come to meetings and say, I want us to stay where we are. You have to be telling your manager I want 10 per cent, 20 per cent more profit.' After that, she never said that to me again."
John is married and has two children, a son, 13, and a daughter, 10. "We are not a traditional Chinese family - make the money and save for the next generation. My kids need to make their own way."
The Chows brought sex to Wellington's Courtenay Place in the late 1990s. Customers got over the supposed shame of being seen going into a brothel and business boomed, particularly after then-Mayor Mark Blumsky vowed to shut them down.
Local politicians soon changed their tune, so much so that Blumsky's replacement Kerry Prendergast endorsed the brothers in their official video promotion.
Their Wellington business once entertained a Middle Eastern prince, who turned up with a diplomatic protection squad of gun-toting bodyguards, John says. All Blacks and politicians have been known to celebrate there. John says there shouldn't be any shame in visiting a sex parlour. "Sex is everywhere. If I wasn't involved in the adult entertainment business I would be interested."
In 2008, they began their expansion into Auckland. First the Mermaid club, then the Galaxy Club, and ultimately The Palace.
The Chow brothers bought the 124-year-old Palace Hotel, on the corner of Federal St and Victoria St West, for $3.3m. They were converting it into a brothel when it began cracking and moving on November 18, 2010. The building was demolished several hours later, after the Auckland Council invoked emergency powers under the Building Act because it posed a danger to the public and adjacent properties.
Chow Group had to pay $248,000 to Auckland Council for the cost of demolishing the inner-city heritage building, and the corner site has sat empty since. John still bristles at the suggestion that he somehow wanted the building to collapse.
If the Chows' vision is correct, within four years the intersection will be New Zealand's answer to Times Square or Piccadilly Circus. A giant LED screen will beam out enough neon to compete with the coloured lights of the SkyTower.
A giant LED screen will beam out enough neon to compete with the coloured lights of the SkyTower.
What nobody has yet pointed out is that a small sex industry has already sprung up around the casino and convention centre. On Victoria St, next door to the brightly-painted Wong Kok Chinese restaurant, is a pink doorway marked "Thai Massage lady want," in English and Mandarin.
Upstairs, at lunchtime on a weekday, there is asmell of Spray'n'Wipe, and three women working the day shift: masseuse Summer, working girl Paris, and a woman with a extraordinarily capacious bust.
"It's business as usual," Summer insists. "We have been here nearly 14 years. There are five parlours around here, if you include the Chow brothers."
She has not heard from the Chow brothers about their plans."No," she laughs, "they are the big bosses - I am just a little person."
The Chow brothers, though, are set to make the neighbourhood Sex Central. The new brothel obtained Auckland Council consent amid a bitter public outcry last year. But among the many neighbourhood opponents, who included Sir Bob Jones, the most conspicuous neighbour had nothing to say: SkyCity did not make any application, for or against.
John Chow says he has not had any direct contact with SkyCity but assumes this is where the majority of the clients will come from.
Some Auckland sex industry bosses believe there is enough business for everyone. At the HQ Club, next door to the Galaxy Club, manager Cathy S says they have had visits from opposition owners.
She is not concerned about the Chows' expansion: "We have our regular clientele. I think The Galaxy Club is more upmarket and will try to snatch the tourists."
David Knott, owner-manager of NewZealand's oldest burlesque bar, Las Vegas Strip Club, says he welcomes the arrival of Mermaid's to K Rd. "I think it's good for us because it brings everything into one street. It makes K Rd more of a destination."
He says attitudes, and clientele, are changing. "We get just as many girls coming in here as guys. There's no longer that long-coat brigade."
However, other Auckland players, like Le Gros, see the Chows as wanting to take over.
Last year, a "strip club turf war" broke out when Jacqui Le Prou tried to set up Calendar Girls in Wellington. The Chows (as well as police) successfully opposed a liquor licence for their rivals. The strip club has got around the ban by selling beer that contains 1 per cent alcohol, for $8 a glass.
"I don't think Auckland needs any more strip clubs," Le Prou says. "I know of clubs that are struggling."
Le Gros says: "The Chows are playing Monopoly - whether it's pulling a building down or stopping someone from getting a licence, they will take over. So look out Auckland, look out Hamilton.
For a boy who was the only Asian at Naenae College in Lower Hutt, John is well accustomed to being an outsider.
He didn't encounter racism, he says, but would like to see more high-achieving Kiwi Asians. "Name a successful Asian in New Zealand," he challenges.
"But New Zealand is still quite a young country - in America you've got 200 years of immigration of Chinese people."
He says he tries to use his "Asianness" to his advantage. "If you ask me a question I can say 'no English'. I actually do understand but it gives me time to think of the answer."
The Chows have luxury homes, they dress in sharp Italian suits, they are driven around in Mercedes.
But John says they don't have many hobbies or interests outside of business. They travel a lot, always learning about the sex trade and storing up ideas to bring back.
They say they are worth well over $100m, but are not concerned at their continuing omission from the National Business Review Rich List.
"For some reason. people on the Rich List don't seem to stay there long," John laughs.
The brothers have travelled to sex industry conferences in Las Vegas twice in the past few years. "In America. it's no different from here. The sex business in 10 or 20 years' time will become more acceptable."
Chow is a student of human nature and uses it to his advantage. He says lessons learned from their parents' takeaway store are still helping them make decisions.
"I can tell everyone coming what sort of people they are. If they go straight to the counter and order without looking at the menu, you know they are a regular. If they are looking around, you know they are looking for the toilet. If they look hesitant, they are looking for change for the parking meter."
The Chows are unapologetic about what they do - and they are unapologetic about who they are. "We are who we are. We don't need to go out looking for business."
Read more: Student: 'The sex industry helps me get by'