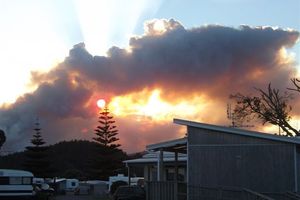 While the fire burning in Dome Valley in Matakana hasn't spread overnight, the job's not over yet, fire services say.
Helicopters with monsoon buckets and fire retardant chemicals have been helping to fight the blaze, which broke out on cutover forestry land next to a commercial pine forest, about 10km north of Warkworth on Saturday.
A ground-based crew of 75 firefighters are onsite today, along with two diggers and a bulldozer. A helicopter is providing support and another is on standby.
Principal rural fire officer Bryan Cartelle said while progress has been good, their job's not done yet.
"The operation is now predominately ground based with the team continuing efforts to strengthen the containments line, put out active flames and dampen hot spots," he said.

"Rugged terrain means this is pretty tough work and I want to acknowledge the dedication of all our volunteer firefighters and partners over the latter part of this fire season."
Auckland's fire ban has now been in place for a month and the fire service says breaches of the ban and careless behaviour will not be tolerated.

"Our priority is wrapping this fire up as quickly as we can and also minimising impacts on the community, especially unpleasant smoke and dust."