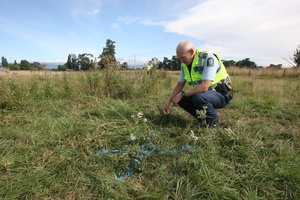 A man was seriously hurt when he was thrown 60 metres from his crashed four wheel-drive.
The 38-year-old Carterton man was the only occupant of the vehicle which crashed through a fence into a paddock then rolled in Wairarapa on Tuesday night.
He was found unconscious about 60m from where the vehicle came to rest.
The last few riders of a group taking part in a road race were heading toward Martinborough and heard a noise behind them.
It wasn't until the cyclists came by on the second lap of the race that they realised it was a crash.
Carterton fire chief Wayne Robinson said firefighters helped ambulance officers to stabilise the man before he was flown to Wellington.
Yesterday afternoon the man was described as being in a serious condition.
It is believed the driver had returned from living in Australia and had been living with family in Carterton.
For more articles from this region, go to Wairarapa Times-Age