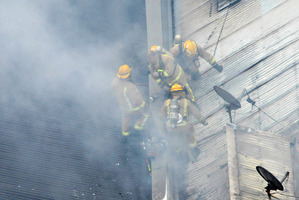 Police are trawling through CCTV footage to try to establish if a fire that nearly killed several sleeping residents of an inner-Auckland apartment was deliberately lit.
The blaze in a two-storey building on Commerce St on Sunday is being treated as suspicious and police are also considering whether the alarm, which did not go off, had been tampered with.
Detective Sergeant Scott Hunter said police had not been able to lift identifiable fingerprints off the building's alarm boxes to see who touched it last, and had turned their attention to CCTV footage of the street.
As well as a fire alarm that was not working, the fire exit had been obstructed by a carpet on the floor.
Mr Hunter said the door would have opened had it been pushed harder but residents had thought they could not get through and two of them had ended up fleeing to the roof.
Four people, including the pair on the roof, had to be rescued from the building which was burning fiercely when firefighters arrived about 7.15am on Sunday.
Fire investigators earlier said the blaze started in an apartment that was meant to be unoccupied and locked.
- APNZ