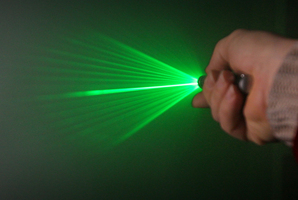 Police have charged a Whangarei man after a high-powered green laser light was shone into the cockpit of the Northland rescue helicopter as the crew prepared to land after an emergency callout.
A 21-year-old has been charged with endangering transport and will appear in Whangarei District Court next month.
The charge carries a maximum penalty of 12 months' imprisonment or a $10,000 fine.
The alleged incident happened on December 30 when the rescue crew had just transported a man complaining of shortness of breath from Kelly's Bay to Whangarei Hospital and were heading back to their Kensington Park base.
The pilot said the aircraft was struck twice, with each blast of light lasting about three seconds. They were able to pinpoint the address where the light came from.
Last November, Joshua O'Hare-Knight, 21, formerly of Paihia, and James Spiers, 19, formerly of Kerikeri, were found guilty in Auckland District Court of causing unnecessary danger to an aircraft.
For more articles from this region, go to Northern Advocate