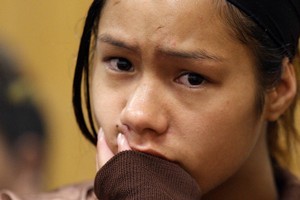 The Court of Appeal had granted a retrial for Lori-lea Te Wini after she was convicted and sentenced to life in prison for the murder of retired Opotiki school teacher John Rowe in 2008. File photo / Stephen Parker
Teenager Lori-Lea Waiora Te Wini has been resentenced to life imprisonment for the 2008 murder of retired Opotiki school teacher John Rowe.
Te Wini, 18, was sentenced in the High Court at Rotorua this morning to life imprisonment with a minimum non parole period of 10 years in jail.
Te Wini and her cousin, Courtney Pauline Churchward, who was 16 at the time of the offence, were found guilty of murder and sentenced to at least 17 years in prison in December 2009.
Both appealed against their convictions and sentences, and in June 2011 the Court of Appeal granted Te Wini a retrial. She pleaded guilty to murder four days before her retrial was to begin.
On appeal Churchward's minimum parole period was reduced to 13 years.
The cousins, then aged 17 and 14, broke into the frail retiree's Opotiki home and beat him with wooden rods, causing massive head injuries and blood loss that later led to his death.
In their initial sentencing in 2009, the court heard in the family's victim impact statement that their frail and ailing father had been savagely beaten by a neighbour to whom he had shown generosity.
"The girls that had been given oranges from my Dad's tree later proceeded to break into my Dad's house and attack him,'' the statement read.
"What kind of exchange is that?''
Justice Geoffrey Venning said Te Wini knew Mr Rowe as the "old man across the fence'' and she had suggested his house as a target for a robbery.
He said Te Wini had played a full and important part in the attack, and had been aware of Mr Rowe's age and frailty.
for more articles from this region, go to ROTORUA DAILY POST