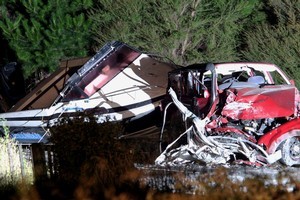 Three teenagers are believed to be among four people killed last night in a road crash in rural Hawkes Bay.
All four were in a car that police say crossed the centre line on a bend and crashed into a four-wheel-drive towing a boat.
The accident occurred on State Highway 2 near the settlement of Mohaka, about 20km west of Wairoa, at 7.15pm.
Two people survived. The Lowe Corporation rescue helicopter flew a 62-year-old man and 17-year-old boy to Hawkes Bay Regional Hospital.
Both had multiple injuries and were in a serious condition.
The wreckage from the crash was so bad that Inspector Paul Jermy said police could not initially tell which vehicles the victims had been in.
The highway was closed and traffic was diverted through Mohaka as the serious crash unit began to investigate.
A relative of one of the teenagers killed saw a helicopter circling nearby and hoped there hadn't been a crash - then 20 minutes later her daughter called to tell her that her grand-nephew Raimon had been killed.
She said the family had very few details of what happened - just that the car the teenager was in landed in a ditch and that he had died.
She said Raimon, who she believed was about 15, was killed with two others of a similar age.
"We have no idea what those boys were [doing] out there. We're just trying to work out what happened," the woman said.
The family had been plagued by tragedy. Raimon's father died in a car crash before his son was born, then soon after, the boy's grandfather drowned while fishing.
"This boy's father, he was killed in an accident on the Wairoa roads, a terrible accident ... when my grand-nephew was still in the womb. [His mother] had to raise that boy all by herself," she said.
"And then [his grandfather] was drowned in Hawkes Bay when he was out fishing with some friends, not long after. It's really so sad. Now they've lost their grandson ... One woman has lost her son, then her husband, now her grandson."
The woman said her grand-nephew was a "lovely boy".
Mr Jermy said it appeared many of those involved in the crash were from the Wairoa area.
The families of some of the victims had travelled to the scene of the collision and were distraught.
"It's not a particularly pleasant situation, obviously, for everyone involved."
The ages and genders of the victims had not been confirmed last night.
A large number of police worked at the scene well into the night, and the road remained closed for hours.
Mr Jermy said officers from Gisborne, Wairoa and the Hawkes Bay attended. The serious crash unit from Gisborne was leading the investigation, and traffic crash analysts from Hawkes Bay would work with them.
"There are quite a few staff there, just due to the nature of the crash and to make sure we have a really thorough investigation."
- additional reporting: Hawke's Bay Today