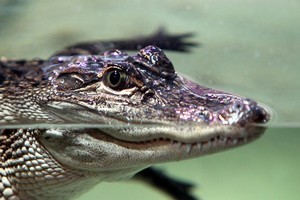 One of the two 5-year-old alligators settles into the National Aquarium in Napier. Photo / APN
Seventeen months after losing Izzy the alligator to a bacterial infection, the National Aquarium in Napier has welcomed a couple of young snappers who are certain to draw the crowds.
Six-year-old alligators Fiona and Cheryl have arrived for a two-year stay courtesy of Butterfly Creek in Auckland. The pair originally came to New Zealand from an alligator farm in Australia and will live in the aquarium's Everglades enclosure on the first floor, which has been specially adapted for them and their new enclosure mates, terrapins.