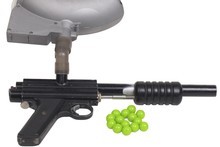 Three people have been injured in separate drive-by paintball shootings.
Police say the victims include a 14-year-old girl who was shot three times in the leg, and a man who was hit in the ear.
All victims describe the attackers as two males driving an old dark saloon car.
There appears to be no reason for the shootings which have occurred in Kumeu, Huapai and Helensville over the past two to three weeks.
Waitemata Police Communications Manager Kevin Loughlin says "the paintball guns being used have a high velocity. They have the potential to cause serious injury to all parts of the body especially the eyes, mouth, throat, the torso, arms and legs."
Police encourage members of the public to call immediately if they see or hear of any such incidents on 09 420 8967 or alternatively call Crime Stoppers anonymously on 0800 555 111.