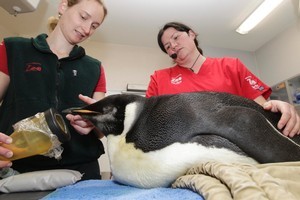 A number of rocks remain in the stomach of the emperor penguin called Happy Feet.
Yesterday about 300 grams of sand, rocks and liquid were flushed out of its stomach -- the fourth procedure for the penguin since turning up unexpectedly on Peka Peka Beach, north of Wellington, early last week more than 3000km from its home in Antarctica.
Wellington Zoo spokeswoman Kate Baker said today it was quite normal for penguins to have rocks in their stomach
"But what our vet team is going to do is send the X-rays away to some people at Massey [University] and just check if they can just be left or if the penguin is going to need an endoscopy to have some of them removed."
She said the penguin seemed to be coping quite well and was "quite resilient".
Providing Happy Feet, whose sex is still unknown, recovers fully, the penguin is set to be released into the Southern Ocean to fend for itself in about a month's time, rather than transporting it to Antarctica.
Businessman Gareth Morgan has offered to return Happy Feet home aboard a Russian icebreaker ship making an expedition to the Ross Sea in Antarctica in February.
Yesterday, he also launched a campaign to raise funds for food and help with care costs -- for every dollar donated, he would match it.
It is only the second emperor penguin known to have landed in New Zealand. The first one was found at Southland's Oreti Beach in 1967.
- NZPA