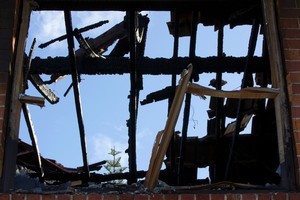 A family home which was badly damaged by fire just two weeks ago was this morning completely destroyed by burglars who are suspected to have broken in and started another fire.
The house on Richardson Rd in the Auckland suburb of Mt Roskill was burning fiercely when firefighters arrived after receiving multiple 111 calls from neighbours shortly after 1am, said Jaron Philips from the Fire Service northern communications centre.
The two storey house had been boarded up and left vacant after an accidental fire in a bedroom earlier this month but the damage was repairable and the family still had their belongings inside, senior fire safety officer Roy Warren said.
It appeared burglars had broken in and ransacked the place - belongings were strewn everywhere and drawers had been emptied out - before starting a fire in an upstairs bedroom which spread to the rest of the upper storey and completely gutted it, Mr Warren said.
Neighbour Rowena Elliot told NZPA her daughter had heard people in the next door house the night before, but she had presumed it was the owners coming to get their belongings.
Other neighbours had told her they saw two men running from the property shortly before the building was engulfed in flames.
The family who lived in the house, a woman and her teenage son and daughter, had gone to stay with relatives.
Ms Elliot understood the woman's husband had recently died.
Another neighbour, Unis Khan, said the flames reached 20 metres into the air at one stage.
An insurance assessor at the scene said the house was insured.
Police are investigating.
- NZPA