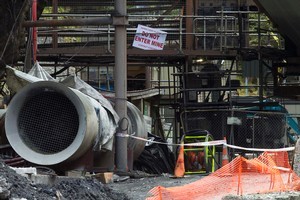 A memorial to those who died at Pike River will be unveiled today in Blackball on the West Coast.
The ceremony coincides with International Workers' Memorial Day for those who've died on the job.
Grey District Mayor Tony Kokshoorn says it's significant because Blackball is where the Federation of Labour began, with workers striking for an extra smoko break in 1908.
"They will put a dedication to the Pike River miners, just a little monument they've built there, so we'll go up and say a few words," he says.
Mr Kokshoorn says it is fitting that the monument will be put in a memorial park to past workers and says most of the families live in the vicinity and will be there.
"It will certainly be a day where we can just reminisce and spare a thought for those loved ones who are still sitting up there in the mountain, not that far from Blackball," he says.
Mr Kokshoorn says it will be a chance for people to say they won't forget all those who have died in the coal industry.
- Newstalk ZB