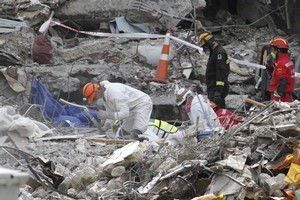 Police have officially released the names of three more victims of last Tuesday's devastating earthquake in Christchurch.
Police Superintendent Dave Cliff confirmed Jayden Andrews-Howland, 15, of Aranui, Paul Clarence Dunlop, 67, of Rolleston and Andrew Stephen Cochrane, 43, of Bromley were among the dead.
Mr Cliff told a joint media conference in Christchurch this morning that the death toll from the earthquake had risen to 159 overnight after four more bodies were recovered.
Eleven people have now been officially named and police expect the death toll to reach about 240 once all the bodies have been recovered from collapsed buildings and identified.
He said three more people had also been arrested overnight. Police would be opposing bail for anyone found looting, breaching cordons or impersonating an Urban Search and Rescue (Usar) worker, he said.
Fire Service spokesman Russell Smith said teams had now travelled up to the 10th floor of the severely damaged Grand Chancellor Hotel and confirmed there was no-one inside.
They had shored up a wall at the Christchurch Cathedral to allow teams access to up to 22 bodies inside, he said.
High winds were an issue for search and rescue this morning as they posed an issue to already unstable and damaged buildings, he said.
Civil Defence controller Steve Brazier told the conference building assessors were having to break through doors to check some properties for earthquake damage.
Locksmiths were travelling with the teams to repair the doors after they left, he said.
He urged residents to look out for vulnerable people who may have "fallen through the cracks" in the Christchurch disaster response.
The chief executive officer of power company Orion told the conference that 27,000 customers - mainly in the eastern suburbs of Christchurch - remained without power.
He said those suburbs had sustained a "huge amount of damage" to their infrastructure.
Mr Sutton said specialist workers were trying to restore power in the worst hit areas and he hoped half of the customers would have power restored this weekend.
Christchurch Mayor Bob Parker said residents of 60 homes in Sumner remained evacuated due to a significantly unstable cliff face above their properties.
Mayor Parker said reticulated water had now been restored to 67 per cent of Christchurch homes.
That is a "remarkable achievement" given the scale of damage last Tuesday's 6.3 magnitude earthquake cased to the city's infrastructure, he said.
Mayor Parker said the main road north was now open and work was being done to fix the sewerage system.
- NZHERALD STAFF, NEWSTALK ZB, NZPA, AGENCIES