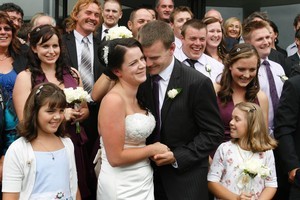 As a young bride-to-be huddled under her desk in the ruins of her office building, she had no idea her fiance was frantically searching for her outside - pulling others to safety along the way.
Emma Howard and Chris Greenslade tied the knot today at the Christ the King Catholic Church in Burnside, at a service that was so nearly marred by tragedy.
Miss Howard works for Leech and Partners chartered accountants, based in the Pyne Gould building which collapsed soon after the quake hit on Tuesday.
As the building crumbled around her, Miss Howard crawled under her desk to safety. Not knowing whether his fiancee was dead or alive, Mr Greenslade made his way to to the building to find her, helping to dig others out of the rubble as he went.
He was photographed carrying an injured woman to safety in one of the first images that emerged of rescue efforts after the quake.
Miss Howard eventually managed to get in contact with Mr Greenslade and tell him she was okay and where she was in the building.
After a nervous six-hour wait, rescuers located her and carried her to safety.
She was shaken, but not injured.
The couple's wedding plans were not affected by the quake and the nuptials went ahead as planned.
Prime News reported Miss Howard "had everything she wanted" and the wedding went ahead without a hitch.
Only one guest was unable to attend because of the earthquake.
Outside the church today, Miss Roberts told waiting media she was feeling tired.
"The church is still in perfect condition and we have a marquee out here on dad's front lawn for the reception," the Stuff website reported her as saying.
- NZ Herald staff