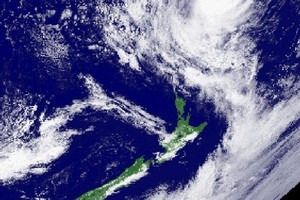 Very heavy rain is currently spreading over northern New Zealand and is expected to become torrential, MetService is predicting, while severe gales are forecast for eastern Northland and Great Barrier Island.
Tropical Cyclone Wilma was lying about 280km north of Cape Reinga at 6pm and moving to the south-southeast, which Weatherwatch.co.nz describes as "the most significant cyclone to hit New Zealand in 14 years".
By midnight tonight it is expected to lie about 90km to the northeast of the Bay of Islands and should pass just to the north of East Cape mid-morning Saturday before quickly racing away to the southeast, says MetService.
Wilma is expected to be reclassified as an Ex-Tropical Cyclone as it passes by northern New Zealand overnight, but will still bring strong winds and heavy rain to northern parts of the North Island.
Another 80 to 150mm of rain is likely in these areas on top of what has already fallen, with rainfall rates possibly reaching 25 to 40mm per hour for a time.
Rainfalls of this intensity can cause surface and/or flash flooding,
lead to slips and will cause rivers and streams to rise quickly, says MetService.
Auckland Civil Defence is urging people to check drains and spouting at home and clear any blockages, as well as pick up debris that could become airborne.
The cyclone has already caused widespread damage in Samoa and Tonga, where it knocked buildings down and blew over trees.
"It should sideswipe the northeastern parts of Northland on Saturday morning, then get pushed off to the southeast and sideswipe Gisborne on Sunday evening. Then it will move way off to the east of us," said MetService weather ambassador Bob McDavitt.
Northland Regional Council civil defence manager Graeme MacDonald said he expects the storm to peak with rainfall of 30mm/hr in the early hours of Saturday.
"Once again, that will mean parts of the region could see surface flooding as rivers rise quickly."
"The rain is also expected to be accompanied by strong or gale force winds, particularly for exposed parts of the region and forecasters are also predicting heavy northeast swells and very rough seas for eastern coastal areas."
Environment Waikato emergency management officer Adam Munro says localised flooding is expected as rivers are still high after heavy rain last week.
He says the region doesn't have the cushion it had last week given it experienced a dry spell before the rain.
But Adam Munro says the good news is that expected rainfall figures aren't as high as last weekend.
- NZ Herald staff, NZPA