In the last in our series looking at our neediest children, we report on what can and is being done for them.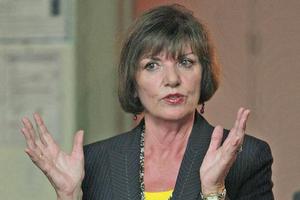 Anne Tolley says national standards will help in dealing with transience. Photo / Hawke's Bay Today
Over the past few days the Herald has looked at alternative education, truancy, transience/absenteeism and exclusions/expulsion rates.
We put a series of questions to Education Minister Anne Tolley about these topics and asked how she thought mainstream schooling was coping in general and what the Government was doing to help those who don't fit into the system.
This is what she had to say to education reporter Elizabeth Binning:
MAINSTREAM SCHOOLING
The minister said schools dealt with a diverse range of students and, from what she could see, principals and schools were doing "an amazing job".
"Things could always be done better, and in some places we find it's quite variable, but by and large I'm absolutely impressed by the extent to which schools do 101 per cent to try to manage kids who come to them with some extremely complex problems."
She said a big behaviour summit last year had resulted in the Positive Behaviour for Learning plan, which was rolling out through schools now and receiving some positive feedback.
Ms Tolley said students were a reflection of their community, so as we saw "more disruptive, more violent behaviour in our communities, we are seeing it in our schools. Schools can't do it all on their own; there has to be some responsibility taken by families and by communities."
ON TRANSIENCE
The minister said moving children from school to school was "extremely disruptive" to their learning and the children could suffer "quite significantly".
"I have great admiration for schools that tell me their school roll changes 30 to 40 and in some extreme cases 50 per cent throughout the year. Parents have to take responsibility for that."
Ms Tolley said the recently launched national standards would provide a "nationally consistent benchmarking" system for schools to measure children.
This would make it easier for schools dealing with transient children.
ON TRUANCY
She said work being done around truancy encouraged and incentivised schools to go on to an electronic attendance register. So far, about half of all secondary and intermediate schools were on it already and about a quarter of primary schools.
Automatic texting was also helping schools, freeing up a lot of resources that went into trying to locate truant and absent children.
ON EXCLUSIONS AND EXPULSIONS
Ms Tolley said there were a lot of reasons why children misbehaved and either fell out of school or got expelled.
"Some of it is around the fact that they just don't have the reading and writing skills that they need when they hit high school or intermediate, and so the national standards are aimed at that."
She said the aim was to build flexibility into the secondary schooling system so schools had a wide variety of ways to fit the needs of the student - as opposed to the "factory type system that we have had for 50 years or so".
"We actually need a student-focus system so that schools can react to individual students' needs."
The minister said she was looking at how schools were funded for students and what incentives were in place to keep the students in school.
ON MAORI STUDENTS
"Maori kids do better in kura kaupapa than they do in mainstream. They are improving, but 50 per cent of Maori kids leave school without NCEA level 2, and that's just outrageous. The system has to change. We know now that there's very good evidence around what's effective for students in schools ... That's all part of schools being much more responsive to the diverse range of students they have in front of them."
ON ALTERNATIVE EDUCATION
The minister said the review was still under way so she didn't want to preempt that by going into too much detail.
When asked if she thought alternative education would close down, she said: "No, I don't. I think there's always going to be a number of kids for whom mainstream school just isn't a good fit, but the object should always be to get them those qualifications ... whether it is by returning them into mainstream or finding them another pathway for them to gain those qualifications.
"What we have to see in alternative education is a greater focus on keeping students in the education system in some form and getting them those qualifications which is a minimum of NCEA level 2."
Ms Tolley said schools needed to start renegotiating their contracts for next year by August or September, so she was trying to have the review completed before then.
"I've said to the ministry July, August. But I've also been saying to the sector that if we have to go another month or so to make sure we get this right - even if we can roll something out that we can continue to make changes to but we are satisfied that we have got the structures right - we're better to do that."
Ms Tolley said while some alternative education was "extremely effective" the reports have indicated the outcomes are "quite variable".
"There were students in alternative education that really should be catered for and could be catered for in mainstream, if mainstream was more flexible. And principals tell me that if the funding was flexible and they could redesign some of the way they present education, they would be able to keep more of those kids in the system."
SEEKING ANSWERS
Saturday: Alternative education.
Teens in Third World schooling
When the mainstream model doesn't fit
A far better alternative to dropping out
Monday: Truancy and dropouts.
School dropout levels fall over past 10 years
Tuesday: Issues of transience.
Message sinking in: switching schools bad for kids
Absenteeism often cry for help
Transient students struggle to catch up
Wednesday: Who kicks kids out?
Second chance works well for student
Expulsion seen as tool of last resort
Aorere strives to improve record
Today: What can be done?
Help for those who fall through cracks
Trust moves in well before students get out of control
Schools can't do it all on their own