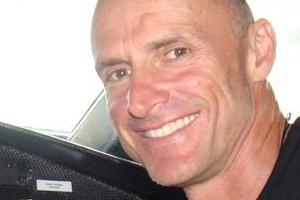 A diplomatic crisis is looming over an anti-whaling activist who is reportedly being held in custody on a Japanese whaling vessel.
New Zealand skipper Peter Bethune appears to be refusing to allow himself to be transferred from the whaling ship Shonan Maru 2 which he illegally boarded in Antarctic waters yesterday, said Foreign Minister Murray McCully.
Diplomats in New Zealand and Tokyo have been meeting to discuss what to do with Bethune, who jumped aboard the Shonan Maru 2 from a jetski with the stated goal of making a citizen's arrest of the ship's captain, while handing over a $US3 million bill for the destruction of his protest ship last month.
McCully met Japan's ambassador today, and New Zealand's top diplomat in Japan met senior officials there yesterday.
Japan's chief Cabinet secretary said the government was coordinating with other agencies, including the foreign ministry and the coast guard.
Asked whether the whaling vessel would bring Bethune to Japan for questioning, top government spokesman Hirofumi Hirano said: "We are coordinating based on that understanding.
We are finalising details on how to handle this under Japanese law.".
It is believed that charges are likely to follow.
Mr Bethune's high-tech speedboat Ady Gil, which had been part of efforts to harass Japanese whalers in the Southern Ocean, sank following a collision with the Shonan Maru on January 6.
Mr Bethune alleged that the Japanese ship deliberately rammed the Ady Gil.
Mr McCully said he met the Japanese ambassador this morning to discuss the issue and let Japanese authorities know that New Zealand was keen to offer consular support to Mr Bethune.
He said he was given an assurance that would be allowed to happen.
Mr McCully said his understanding was that Mr Bethune boarded the Japanese ship to make a point, "knowing there would be consequences from it and that he is not only not seeking to be removed, but is refusing to be removed".
It is understood that Bethune acted after what the Sea Shepherd Society described as "apalling" inaction by the New Zealand government.
McCully said he had vague information suggesting Mr Bethune was in "reasonable shape", but couldn't say how securely he was being detained and whether he was handcuffed. Such information was being sought today.
Mr McCully said he didn't want to damage Mr Bethune's interests by talking about whether his actions amounted to a publicity stunt.
However, Japanese Insititute of Cetacean Research spokesman Glen Inwood dismissed the move as just that.
"To suggest that he was over there to present a bill and then to make a citizen's arrest of the Shonan Maru captain - these are just flights of fancy by Sea Shepherd, basically because it is still illegal to board another country's flagged vessel on the high seas."
Mr Inwood told Radio New Zealand there was no prospect of Mr Bethune being returned home soon as there was no New Zealand or Australian vessel anywhere near the Shonan Maru.
Pulling up alongside a Sea Shepherd vessel to transfer Mr Bethune was not an option, Mr Inwood said.
"That is a hugely risky move and would no doubt result in the Japanese vessel being overrun with more of the Sea Shepherd people. That's out of the question."
Mr Inwood said it was highly unlikely Japan would pay compensation over the loss of the Ady Gil as Mr Bethune had put himself in the situation where a collision was likely.
"There are three investigations going on between Australia, New Zealand and Japan about the collision and those results will come out.
"It's a crime under maritime law to board another country's flagged vessel on the high seas illegally," Inwood told Australian Broadcasting Corp. radio. "If he is taken back to Japan, it would be my personal view that ... he should face charges in Japan."
Japanese Fisheries Minister Hirotaka Akamatsu told reporters he wants the activist handed over to Japan's Coast Guard for investigation.
Under Japanese law, intruding on a Japanese vessel without legitimate reasons can bring a prison term up to three years or a fine up to 100,000 yen (US$1,100).
Captain Paul Watson, of the Sea Shepherd's anti-whaling ship Steve Irwin, said they had not had any contact with Mr Bethune since he boarded the Shonan Maru.
Prime Minister John Key has been critical of both parties and said he hoped a resolution could be found to put an end to the escalating tension.
- NZPA, AP