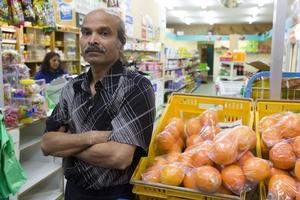 The wife of a man who attacked and killed an elderly motorist in a fit of road rage says her husband is full of remorse - and has told her he knows he must pay for his actions.
Bio O'Brien was an A-plus engineering student at Unitec and well on his way to a successful career until that fateful day in April, when he flew into a rage over a minor fender-bender incident in Mt Albert, Auckland.
He hauled 78-year-old Jasmatbhai Patel out of his car, beat him about the face and pushed him so hard that he fell and cracked his head on the kerb. Patel died in Auckland Hospital the next day.
This week, O'Brien, 28, pleaded guilty to manslaughter and faces a long jail sentence - leaving his wife Suria and their 2-year-old daughter Makurita to contemplate prison visits and the Patel family's loss.
"I am absolutely sorry that my husband has destroyed their lives. If only I could turn back time and find a way for us to give back what they have lost."
She said her husband had not been a violent man before this, although he could get aggressive in the past when he was drinking.
"We all have issues with our temper, but, to be honest, not so bad to have done this. I mean, we both have fiery tempers, but I think I am worse than he is. We have lived together for the past three-and-a-half years. I have never ever seen him be that outrageous."
She said her husband, who has been in custody since the incident, had only recently started talking about Patel's death. He had not wanted bail, she said, because he said he realised he had to pay for his behaviour.
"He just can't stop thinking about what happened, and he really, really regrets what he did. He is absolutely disgusted about the outcome and he wishes he never got out of the car. He does want to apologise and express his sorrow."
Patel's family members have said they never want to meet O'Brien, and that they hope he is sentenced to a maximum period of imprisonment.
The minor collision between Patel's van and O'Brien's BMW caused a 30cm dent.
O'Brien called his wife from the scene and admitted he'd "done something really horrible ... 'I pushed a man, the old man fell on to the ground and I am sure he is fatally injured, and I don't know what to do, Suria'.
"He said, 'I have tried my best to resuscitate him but I think, he is really, really bad'."
O'Brien was born in the small Pacific nation Tuvalu, the second youngest child of five children. He won a scholarship to study at Wesley College in his seventh form year.
O'Brien was in his last year of gaining his engineering diploma at Unitec at the time of the attack. By all accounts, he loved the course and excelled. His career is now in tatters.
Suria and O'Brien married three years ago. She said he was a good father and would back down in their arguments.
"I am the person who takes life seriously, I don't take crap. So if I don't agree with something, I say so.
"Bio appreciates the person that I am, that I stand up for myself. He respects me as a person. He is very confident and articulate."
The Patel family said this week they were still devastated. "Whenever I see pictures of fighting or crime, I realise that is what my dad went through the same situation ... bloodied to death," said Patel's son, George.
He said he would attend O'Brien's sentencing next month.
"I didn't see remorse on his face," said George this week, after O'Brien pleaded guilty.