Labour leader David Cunliffe has plans for potential royal guests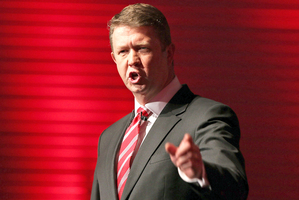 Labour leader David Cunliffe has vowed to take Prince William and his family to poorer streets such as McGehan Close and a closed tannery in Shannon.
Last month, British media reported Prince William, the Duchess of Cambridge and Prince George are expected to visit Australia and New Zealand next year, although the royal family has not confirmed it.
In his speech at yesterday's Labour Party conference, Cunliffe said it would be very "convenient" for Key if the royal family visited in an election year.
"Will John Key dare take the Duke and Duchess back to McGehan Close? Will he take them to a closed sawmill in Rotorua or a boarded-up tannery in Shannon?"
Key visited McGehan Close in 2008 as an example of the "underclass" which he promised to address. Residents had complained little had improved since.
Cunliffe refused to give his views on republicanism but said the Labour Party wanted more discussion on "evolving our constitutional form over time".
He said he would take the royals to McGehan Close if he was hosting them.
"I'd try and take them through a representative set of experiences that showed the real state of our country, and at the moment that isn't good."
Labour members are due to discuss a referendum on the monarchy today. Key, who has described himself as a monarchist, visited the Queen in Balmoral last month where he also met Prince William and saw Prince George.