Elisabeth Easther finds a slice of French seaside in Pine Harbour, just 40 minutes from Auckland.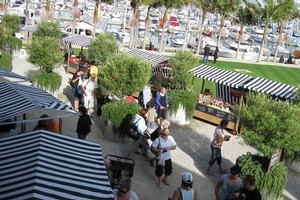 We'd been told that the Pohutukawa Coast is one of the loveliest spots in Auckland, and at a mere 40km from the CBD, it's accessible too. Snugly fringed by the sea, the relaxed and rural region is a world away from the hustle and bustle of the city. So it was with happy hearts that we set off for a day's adventuring.
The adults were most looking forward to the Pine Harbour Fresh Market, and a spot of relaxing, while the 5-year-old was most excited about climbing some trees. I'm pleased to report everyone returned home satisfied.
One of the best days to visit Pine Harbour is Saturday, when the market sprouts up at the marina, from 8am to 12pm, rain or shine. There you'll find the usual market fare - cheeses, meats, pies, pate, cornish pasties. Tasty Hungarian and German sausages are made, curiously, by a Serbian and a Croatian. And the tangelo juice was outstanding. Crepes were flipped for us by genuine French people. A word to the wise, their caramel sauce is tres divine.
Great coffee and baked goods, too.
There was a bit of a breeze the day we visited (ideal for the sailors) yet eventually it was deemed safe for the bouncy castle to be blown up and not have it blow away. Although a certain 5-year-old liked the idea of the castle being flung out to Waiheke, to add a whole new element of danger.
Pine Harbour's marina is very jolly in a French-Riviera-meets-Lockwood-Homes sort of way, with that particular sound of masts bumping against spinnakers, ocean birds squawking and the smell of the sea.
Pine Harbour is also accessible by ferry only during the week (but sadly not during the weekend) so we figured it would be the perfect weekday adventure in the holidays to grab the kids and the bicycles and head there by water. There are numerous tracks and trails for those on two wheels, and walkers as well.
With our picnic basket bulging with market goods, we explored the Pohutukawa Coast trail. If time is not an issue, you could occupy yourself on this stretch of coast for weeks without getting bored. Eventually we settled on a most glorious patch of beach on Maraetai Park, with its playgrounds, a sturdy wooden jetty jutting out to sea and a range of cafes arrayed along the promenade of the bay.
True to their top billing, the pohutukawas were putting on a magnificent show - gnarled old trees that begged to be climbed, as well as providing much needed shade.
This stretch of coast also boasts vineyards, a pony club, two regional parks, Duder and Omana, pristine and perfect for tramping, swimming, mountain biking and nature loving goodness. Bird watching enthusiasts would have a grand time: those who know what they're looking for might even catch a glimpse of one of the world's rarest birds, the New Zealand dotterel, not to mention the godwit, famous for its extraordinary migration.
And if you're fond of clubbing, I have it on good authority the Formosa Country Club has one of the finest golf courses in the world. Designed by Bob Charles, golf aficionados say it is hard to beat. Be warned though, Saturday is members only, but call ahead and you may be able to secure a round.
If you're after a more relaxed pace of life, for a day or a lifetime, this is where you will find it.
ESSENTIAL INFO
Getting there: By car from Auckland: Take SH1 till you reach exit 448, which takes you on to SH20, heading for Manukau. Head for Whitford then follow the signs for Pine Harbour. Takes about 40 mins.
Or by ferry: pineharbour.co.nz.
Go golfing: formosa.co.nz.
Forage for food pineharbour.co.nz.
General info: pohutukawacoast.co.nz.
Pohutukawacoast-Trail: Allow 2 to 3 hours by car - or much much longer if you fish, ramble and explore.