Silver Ferns withstand late burst by Aussies to take Constellation Cup.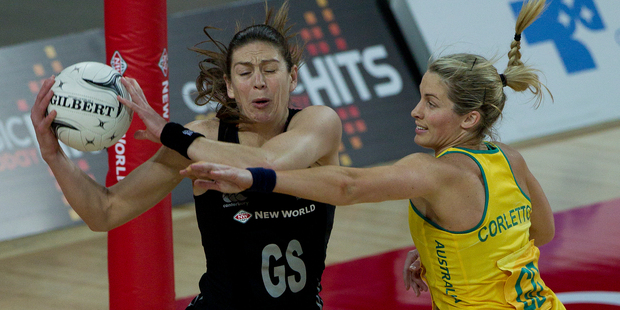 The Silver Ferns scored an historic series win over Australia, fending off a late fightback to lift the Constellation Cup for the first time.
After blitzing out to a 31-19 lead at halftime, the Ferns looked to be cruising to a comfortable victory. But spurred on by wholesale changes at the break, Australia launched a stunning comeback, cutting the lead back to five heading in to the final turn. They had a chance to level the score in the final minute, but Caitlin Bassett's shot bounced off the rim and in to the hands of Leana de Bruin.
Maria Tutaia was again the star of the show for the Silver Ferns, producing another masterclass in shooting to outscore her shooting partner Irene van Dyk. Tutaia's 26/29 was identical to the numbers she posted in Sunday's 54-52 win in Melbourne.
The Ferns have not won a series against Australia since 2004, when they pulled off a clean-sweep of Norma Plummer's visiting side. That will again be the aim for the Kiwi side as the chase three from three in Sunday's finale in Christchurch.
Casey Williams was once again relegated to chief time-keeper and drinks deliverer, with the star defender failing to recover in time from a knock to the knee she suffered in the build-up to the opening test. With a tight turnaround between test two and Sunday's finale in Christchurch, New Zealand coach Waimarama Taumaunu opted to be cautious with her skipper.
Even without the spectacular aerial abilities of their captain, the New Zealand defence was impressive, as Katrina Grant and Leana de Bruin combined to suffocate the Australian shooters.
They were strongly assisted by wing defence Anna Harrison, whose long limbs again caused problems for the Australian attack, as they struggled to sight their shooters.
After a lacklustre showing in their loss in Melbourne, the Australians promised a more confrontational approach on defence last night.
But despite their more committed efforts, they struggled to ruffle the New Zealand attack, as Camilla Lees and Laura Langman demonstrated strong patience.
Feeding off a wealth of turnover ball coming out of their defence end, van Dyk and Tutaia combined for a near-faultless shooting performance, missing just one goal in the first half to shoot the Ferns out to a 31-19 lead at the long break.
Not surprisingly, Lisa Alexander opted for wholesale changes at halftime, introducing Renae Hallinan (WD) and Madison Browne (WA) in to the midcourt, with Kim Green moving to centre in place of captain Natalie von Bertouch, who looked to be struggling with a calf injury.
Bassett was also introduced at goal shoot, in place of Cox, whose shooting numbers fell away in the second spell.
The changes sparked a strong comeback from the Australians.