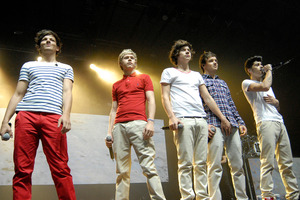 The screams may eventually fade away but One Direction will leave New Zealand with an indelible memory of their trailblazing tour.
Band member Zayn Malik had a native New Zealand fantail tattooed onto the back of his neck during a late-night trip to a tattoo parlour.
Barely 12 hours later Malik, the "cool one", had taken off the bandages and hit the stage at Trusts Stadium in West Auckland to perform two sellout concerts with the fab fivesome.
His bandmates showed just how close they had become on tour - with Harry Styles "cupping" Liam Payne by placing his hand over his private parts to the delight of the young female audience.
Tattoo artist Benjamin Raddatz, 31, from Tattooed Heart on Auckland's Karangahape Rd, said Malik showed up on Friday night while the others attended the rugby league test at Eden Park.
"He came in and didn't know what he wanted, so I had a beer with him and suggested it.
It's nice to give celebrities nice tattoos, quite often they end up with terrible tattoos."
He said the fantail was a symbol of good luck - but hoped Malik's fans did not copy the design.
"Too many people go out and get David Beckham's tattoos or whatever. It's pathetic," he said.
Raddatz was unfazed by the famous client but said he warmed to the 19-year-old during the 30-minute job.
It was Malik's fifth tattoo - and comes after fellow Englishman Robbie Williams had a Maori tattoo enscribed on his arm 10 years ago.
A legion of hysterical One Direction fans finally got to see the band take the stage yesterday at Trusts Stadium.
Afterwards, Western Springs High School student Raina Hepers, 15, said she cried throughout most of the 70-minute concert.
"I just can't believe I saw them in real life," Hepers said. "I only stopped crying for five minutes, I'm just so happy."
Her friend Sara O'Dwyer, 15, said they had been hardcore fans since listening to their hit song What Makes You Beautiful on YouTube last year.
"I just thought they were okay at first but then I got caught up in the hype and everyone else liking them."
The "hot and sweaty" teens tagged their bodies with all of the boys' names but confessed to having crushes on Harry and Louis. "They are sexy," O'Dwyer said.
Matamata Intermediate pupils Lucy Crabb and Madi Dearlove, both 12, said they had sore throats from screaming at the boys who looked "way better in real life than in photos".
"It was indescribable, all of the girls just screamed and screamed," Dearlove said.
Fans held banners expressing their love, including two which read "Harry, date?" and "I love you, you're Irish".
Security guards told the Herald on Sunday fans had been camping out since 3am yesterday.
The band, proteges of X Factor svengali Simon Cowell, have been mobbed by fans from the moment they arrived in New Zealand on Thursday. Their security detail booked 15 rooms in three hotels.
Boyband goes hungry
Al Brown risked the wrath of his young daughters after turning away superstar boyband One Direction from his popular Auckland restaurant on Friday night.
A representative from the band's record label Sony had called Brown's restaurant, Depot at SkyCity, asking for a dinner reservation for the band at 8pm Friday.
But the restaurant has a strict "no reservations" policy - and Brown wasn't about to relax it for the five heartthrobs.
"I said, we can do 6 o'clock, but we don't take reservations." So after three of the band completed SkyTower bungy jumps about 7.30 that evening, they had no choice but to jump back in the car and head off elsewhere for dinner.
And by 8pm the restaurant was full. As Brown ferried dishes from the kitchen to his guests' tables, he admitted that the One Direction band members might not be the only ones unhappy at his decision.
"My daughters are going to kill me," he laughed.
In May 2011, popstar Katy Perry was turned away from Euro restaurant.
Whole night one big shriek
Review by Laura Sarney (aged 12)
One Direction came on stage to thousands of screaming girls - me being one of them. They were so blown away by the noise that they started a screaming competition between different parts of the Trusts Stadium, and personally I think my side won.
First, Kiwi singer Annah Mac had got us excited with a few of her songs.
When the boys came out the squealing filled the entire stadium, leaving my ears ringing.
Throughout the concert a video screen behind the band played clips of what the boys' life was like, divided into three seasons. There were summer beach days, an autumn school term and a winter snow holiday.
During the winter set, snow fluttered down from above, and the boys threw snowballs into the crowd!
They interacted with the audience a lot, and thanked us for being there and for buying their songs.
They put up some Twitter questions from the crowd, one of which asked them to talk in a Kiwi accent, which Niall, Louis, Liam, Harry and Zayn did hilariously.
They sang most of the album that went double platinum in NZ, Up All Night, and played a few covers. Although 1D is one of the biggest bands in the world they seemed friendly and normal, and told us how they like doing things in Auckland that tourists do, like bungy jumping off the Sky Tower!
Mostly they seemed like they were having lots of fun. And the whole stadium and I joined right in with them.
They made it feel like one big party and I'm pretty sure that I and all of the other Directioners out there cannot wait for their return in September 2013. I rate the show 15 out of 10!