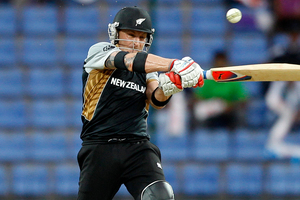 The Black Caps beat Bangladesh by 59 runs in their opening match of the T20 World Cup in Sri Lanka last night. Andrew Alderson describes five key moments from the match.
1. 1.3 overs, Martin Guptill six - New Zealand move to 14 for none.
Guptill planted a foot down the pitch to Shafiul Islam, hit him clean over long on and held the pose. The shot was graceful, the contact was clean and the Bangladeshis were stunned. Importantly, it showed there were not as many demons in the green-tinged pitch as first thought and Guptill had a sizable white cherry on his bat as reward.
2. 4.4 overs, Brendon McCullum four - New Zealand move to 28 for one.
Demonstrated McCullum's eye was in. Went on the back foot and eased the ball through a key hole in the covers. It was a good length ball from Mashrafe Mortaza but McCullum seized on the slimmest of opportunities.
Demoralising for Bangladesh, uplifting for McCullum's confidence.
3. The sixth over, running up five singles - New Zealand move to 34 for one.
Showed New Zealand had learnt from previous failures against Bangladesh's left-arm orthodox spin. Abdur Razzak was darting the ball in but struggling to find rhythm as McCullum and James Franklin switched strike five times. Both looked comfortable as they patiently pushed the ball into gaps rather than slogging ineffectively.
4. 18.4 overs, McCullum hundred - New Zealand move to 168 for two.
Had the statisticians flying into action; the first player to get two centuries in T20 internationals, only nine dot balls in his 51 faced et al. The ton was just reward for seizing the game away from Bangladesh and giving New Zealand oxygen to develop at the tournament. Did it using finesse as much as fury.
5. 0.3 overs, Tamim Iqbal wicket - Bangladesh lose their first wicket without scoring.
Dismissing one of Bangladesh's better batsmen without a run on the board was the perfect start for New Zealand. Kyle Mills bowled just short of a length, Tamim went to cut, didn't move his feet and the ball went off the toe to Guptill at cover. Created insurmountable pressure early.
Andrew Alderson flew to the Twenty20 World Cup in Sri Lanka courtesy of Emirates Airline (www.emirates.com/nz).