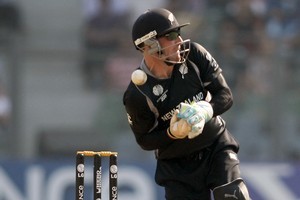 New Zealand are intent on making sure their strategies are in place, rather than worrying about what the South Africans might bring to their World Cup quarter-final on Friday night.
In the space of about five minutes during an interview yesterday, wicketkeeper Brendon McCullum several times talked a variation on "the focus is on what we can achieve" rather than discussing the South Africans at any length.
This is not an uncommon approach ahead of crunch matches and is reasonable enough, especially as New Zealand can hardly be accused of having all the key elements of their game in place.
Although New Zealand will start underdogs at the Shere Bangla stadium in Mirpur, on the outskirts of Dhaka, they see one small advantage: they have an intimate, if grim, knowledge of the ground and nature of its pitches.
Four times Bangladesh beat them on the ground last October, in what rates as one of the low points in New Zealand ODI history. Out of that, the ever upbeat McCullum sees a positive.
"We are used to the conditions, which has got to help us," he said.
"To play South Africa in those conditions is not a bad draw at all. They obviously prefer a little more pace and bounce in their wickets. Dhaka won't quite give them that and I'm sure they'll be a little disappointed."
The South Africans did get a taste of what to expect, however, when they thumped Bangladesh by 206 runs last weekend to eliminate the joint hosts and secure top spot in the group.
Four group games were played in Mirpur. The team winning the toss batted first on three occasions, winning twice. The indicators are that it is likely to be a bat-first decision for the winning captain.
India racked up 370 for four in the opening cup game, after being sent in by Bangladesh captain Shakib Al-Hasan, and the South Africans made 284 for eight against the Bangladeshis.
South Africa are yet to win the World Cup and wear the tag of the team most likely to get things wrong, after their travails of 1999, 2003 and 2007 when, respectively, they completely botched a semifinal against Australia in the final over; missed making the knockout stage altogether; and were rolled for just 149 by Australia in their semifinal.
McCullum didn't dwell on that, while acknowledging they possess some formidable players.
"Our game plan is reasonably basic," he said. "Be pretty disciplined with the ball, incredibly desperate in the field and with the bat lay the platform for the big hitters later on. If we do that we'll give ourselves the best opportunity."
McCullum talked about the controllables and what is beyond New Zealand's grip, adding that if they do their bit well "hopefully, South Africa will fall by the wayside and we can move on to our next opponent".
South Africa aren't exactly sweating bullets on the New Zealanders, if batsman Faf du Plessis' comments are any guide.
"If we prepare well and we are ready for the game and we play to our full ability, we are confident that we will win the quarter-final," he said yesterday.
New Zealand are hopeful captain Dan Vettori and seamer Kyle Mills will be fit for Friday night.
Both are making good progress on knee and thigh strains.
Should New Zealand win, they are due to play either Sri Lanka or England in their semifinal in Colombo.
New Zealand's quarter-final will be umpired by Australian Rod Tucker and Pakistan's Aleem Dar.
New Zealand's leading official Billy Bowden will control tonight's game between Pakistan and West Indies, in Mirpur, with Australian Steve Davis.