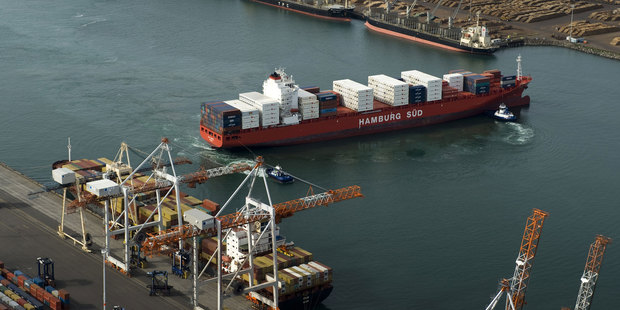 Freight and logistics management company Kotahi and the Port of Tauranga have struck a strategic 10-year freight alliance that will involve Kotahi taking a small stake in the port.
Port of Tauranga will issue 2 million shares to Kotahi - a joint venture between Fonterra and Silver Fern Farms - representing 1.5 per cent of Port of Tauranga's issued share capital.
Kotahi's rights to the shares, including dividends, are subject to Kotahi delivering on certain freight volume commitments over a 10, the parties said in a statement.
In addition, Kotahi has agreed to commit export traffic to Port of Tauranga subsidiary TCTS, which holds a 35 year lease over the 10 hectares of terminal operating area at PrimePort Timaru.
In exchange for the commitment, Kotahi will get a 49.9 per cent shareholding in TCTS.
Operations at TCTS will be managed under a management contract with Port of Tauranga.
As a result of this agreement between Kotahi and Port of Tauranga, TCTS plans to invest in port infrastructure including another mobile harbour crane to handle the increased container traffic.
Kotahi has agreed to commit export cargo to Maersk Line -- the world's biggest shipping company - for New Zealand coastal and South East Asia trans-shipment ports.
This gives Maersk Line volume certainty to plan for the introduction of 6,500 TEU (twenty foot equivalent) container ships to New Zealand, the parties said.
"New Zealand doesn't have a big ship capable port and now is the right time for key players to work together to build a capability within New Zealand to receive these large vessels with all the efficiencies they will bring to New Zealand," Kotahi chief executive Chris Greenough said.
Kotahi has committed to provide up to 1.8 million TEU export cargo containers to the Port of Tauranga over the next 10 years, starting from August 1, and has committed significant export cargo to TCTS from the same date.
The Port of Tauranga has committed to investment in infrastructure to enable visits from the larger 6,500 TEU container ships within the next few years.
Kotahi has committed to provide up to 2.5 million TEU export cargo containers to Maersk Line for the next 10 years, also starting from August 1.
Port of Tauranga chief executive Mark Cairns said the agreement with Kotahi will be immediately earnings accretive for Port of Tauranga.
Maersk has committed to introducing a new 4,500 TEU service from October 2014, to Tanjung Pelepas in Malaysia, to provide additional capacity, and to complement the current Northern Star and Southern Star services.
- APNZ