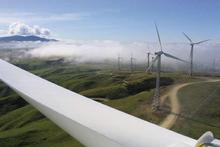 An industry group is forecasting a six-fold boom in the capacity of wind farms during the next 20 years.
Wind now generates about 5 per cent of the country's electricity but this is predicted to grow to 20 per cent by 2030.
The Wind Energy Association says turbines are getting more reliable and operations and maintenance costs are falling.
"We do have challenges for the wind energy industry," said the association's chief executive, Eric Pyle.
"The outdated perception of wind as expensive and unreliable remains in the minds of some people. And as a consequence the benefits of wind generation for New Zealand tend to be underplayed."
The number of big new wind farms being built has fallen in the past five years as building costs have risen and the economics of other generation, notably geothermal, have improved.
But Pyle said wind generation was viable and experienced developers were already seeing wind as the most cost-effective way of generating electricity.
State-owned Meridian Energy pulled the plug on the large Project Hayes windfarm in Otago last year but in a briefing for analysts last week said good projects were commercially attractive at under $85 per megawatt hour.
"Our best wind development prospects are competitive with brownfield geothermal and are capable of displacing existing thermal generation," Meridian said.
The association said the Government's target of 90 per cent of energy being generated from renewable sources by 2025 would require a substantial boost in that sector.
Wind capacity is now at 622MW but is forecast to be 3500MW by 2030.
At this level wind farms will cover 0.4 per cent of NZ, mostly sharing that land area with traditional farming.
By Grant Bradley

Email

Grant