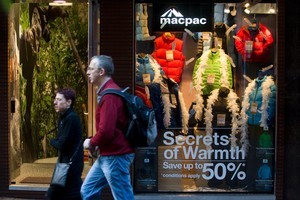 The co-owner of one of Kathmandu's main competitors says he's surprised the outdoor apparel retailer is blaming its disappointing Christmas sales on weak consumer spending when trading over the period at his retail chain is well up on last year.
Kathmandu released a market update on Thursday, warning earnings for the six months to January 31 were expected to be lower than the $23.2 million the company achieved in the same period a year earlier.
The news prompted a more than 25 per cent slump in its share price.
Chief executive Peter Halkett said on Thursday trading had taken a turn for the worse in the last week of November, and same-store sales had been negative on the prior year over the past few weeks.
The situation reflected "weakened consumer spending", he said.
But Campbell Junor, director and co-owner of outdoor retailer Macpac, said December same-store sales were 30 per cent up on last year.
Blaming tepid spending for its poor Christmas sales was a "bit of a cop-out" on Kathmandu's part, he said. "The market's still shopping."
Halkett could not be reached for comment yesterday.
Figures from electronic payments provider Paymark show sales through its eftpos network were up 4.7 per cent on last year during the first 20 days of December.
Junor said outdoor apparel buyers were becoming increasingly quality-conscious.
"People are more savvy than they used to be," he said. "They can research things on the internet and know the difference between what's well-made and what's not well-made."
Junor said it was difficult to know whether the increased sales Macpac was seeing this Christmas was a result of Kathmandu customers switching brands, but it would be "a fair assumption".
Kathmandu also has a new competitor in this country.
FCO Fishing Camping Outdoors, owned by ASX-listed Super Retail Group, launched into the New Zealand market in August and operates a number of stores in the North Island.
Halkett said FCO and Kathmandu had "relatively significant" overlaps.
"But we're largely apparel-based and they're largely equipment-based so I certainly wouldn't be saying that's the reason [for the drop]," he said. "It may be a small factor in some of our stores."
Kathmandu shares recovered some ground yesterday after their big fall, closing up 8c at $1.72 last night.
Goldman Sachs downgraded its earnings-per-share estimates on Kathmandu stock by 11 per cent to 15 per cent following Thursday's update.