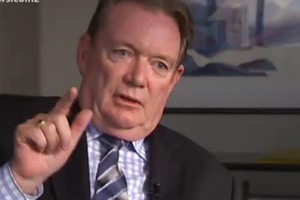 While Alasdair Thompson has issued an "unreserved and unqualified" apology for suggesting women's periods affect their productivity in the workforce, figures show there is just 1.6 days annual difference between that taken by men and women working in the public service.
The figures were based on data in the State Services Commission's Human Resources Capability Study and show that in 2010 men took on average 6.8 days sick and domestic leave annually while women took 8.4 days.
Mr Thompson sparked outrage when he said once-a-month "sick problems" cause women to take days off work.
He later started a fiery confrontation with Campbell Live reporter Mihingarangi Forbes when she questioned him on his statements.
The figures showing the actual differences in time taken were released by the Public Service Association and national secretary Brenda Pilott said that given that the majority of responsibility for children and other family members falls on women, she was surprised there was n0t a larger difference in the amount of days taken.
"What the statistics clearly show is that women are not taking days off each month because of periods as Employment and Manufacturers Association (EMA) chief executive Alasdair Thompson claims.

The PSA represents 40,000 women who work in all parts of the public sector. Half of the survey respondents reported working extra hours, but only one in 10 of those is paid for doing so.

"People are calling for Alasdair Thompson's resignation, but what is really needed is a strengthening of the Equal Pay Act.

"Despite a proud history on advancing women's rights, a huge gender pay gap remains in the New Zealand workplace and in some agencies is increasing. The situation is exacerbated by the lack of transparency around pay.

Earlier today Mr Thompson issued an "unreserved and unqualified" apology for suggesting women's periods affect their productivity in the workforce.
His apology acknowledged his words were offensive and poorly chosen.
An initial discussion on women in the workforce disintegrated into facile observations that did a disservice to a very serious matter, he said.
"I apologise for my poor choice of words and bad judgment during the discussion about gender and productivity in the workplace.
"I raised issues that were misplaced and irrelevant to the discussion.
"I realise my remarks offended many people."
Meanwhile, he has found some unlikely support in Australia.
Deborah Bush, who is a member of the Pelvic Pain Steering Committee Australia, said while she agreed Mr Thompson's comments were discriminatory, he had a point.
He had unwittingly highlighted the fact that millions of women around the world suffer from debilitating pelvic conditions such as endometriosis, which can force them to take time off work.
"If we addressed this as a highly prevalent health issue requiring major attention, instead of scooting around the periphery of what was being said, we would be able to come out and see he has a point," Ms Bush told AAP.
"There is a real problem with these conditions affecting women and girls.
"We can all get on a kneejerk reaction and slam dunk Alasdair Thompson, who has unfortunately articulated in a poor way.
"He has struck a nerve. But the problem is a huge burden on women, families and society and sadly goes under the radar.''
- HERALD ONLINE, NZPA