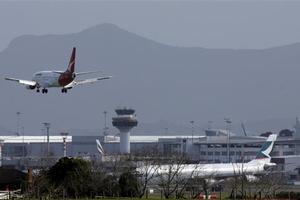 Auckland Airport is expecting 2010 net profit to be at the high end of its previously announced range, between about $93 million and $100m, mainly due to improving passenger numbers.
Total international and domestic passenger numbers for the first five months of the 2010 financial year had been ahead of its previous planning assumptions, the company said today.
The improved passenger volumes had been seen consistently in the past three months, providing confidence in the sustainability of the improvement.
But the passenger benefits had been partially offset by landing charges running lower than originally assumed as airlines reduced the average size of aircraft, Auckland Airport said.
The company also said that despite encouraging signals of returning stability and confidence in the aviation sector, it had decided to hold landing fees at current levels for another two months.
Aeronautical charges had been due to rise from last July, with international and domestic landing fees due to rise 2.5 per cent and the passenger service charge (PSC) paid by international passengers due to rise from $13.00 to $13.50.
But due to challenging conditions in the industry, international landing fees were discounted by about 5 per cent and domestic landing fees were left unchanged, although the rise in the PSC was implemented.
Today, the airport said it would revert to the 2009/10 pricing schedule from March 1.
- NZPA