US Senator John McCain is discontinuing medical treatment, his family announced yesterday, just more than a year after the maverick Republican from Arizona was diagnosed with brain cancer.
Their statement said McCain, who turns 82 this week, had surpassed expectations for his survival since his diagnoses last July of glioblastoma, a terminal form of brain cancer.
"But the progress of disease and the inexorable advance of age render their verdict" and the senator has decided to end medical treatment, the statement said.
McCain, a celebrated Navy pilot in the Vietnam War, has been absent from Washington since last December. While undergoing treatment in Arizona, he has kept a low profile, issuing written statements on major news developments but offering the public few glimpses of his condition.
"I love my husband with all of my heart," Cindy McCain wrote on Twitter yesterday shortly after the family statement was released. "God bless everyone who has cared for my husband along this journey."
During a long and sometimes polarising political career, McCain has served in the Senate for more than three decades and twice sought the presidency.
Yesterday's news prompted an immediate outpouring of support on social media and elsewhere from McCain's colleagues in Congress.
"Very sad to hear this morning's update from the family of our dear friend @SenJohnMcCain," Senate Majority Leader Mitch McConnell said on Twitter. "We are so fortunate to call him our friend and colleague. John, Cindy, and the entire McCain family are in our prayers at this incredibly difficult hour."
"John McCain personifies service to our country," House Speaker Paul Ryan said in a tweet. "The whole House is keeping John and his family in our prayers during this time."
Glioblastoma is an aggressive type of brain cancer, and the prognosis is generally poor. Senator Edward M. Kennedy survived less than 15 months after his was found in 2008.
Brain tumor experts said that because the prognosis for glioblastoma patients is so poor, many patients eventually face the difficult decision of when to end treatment.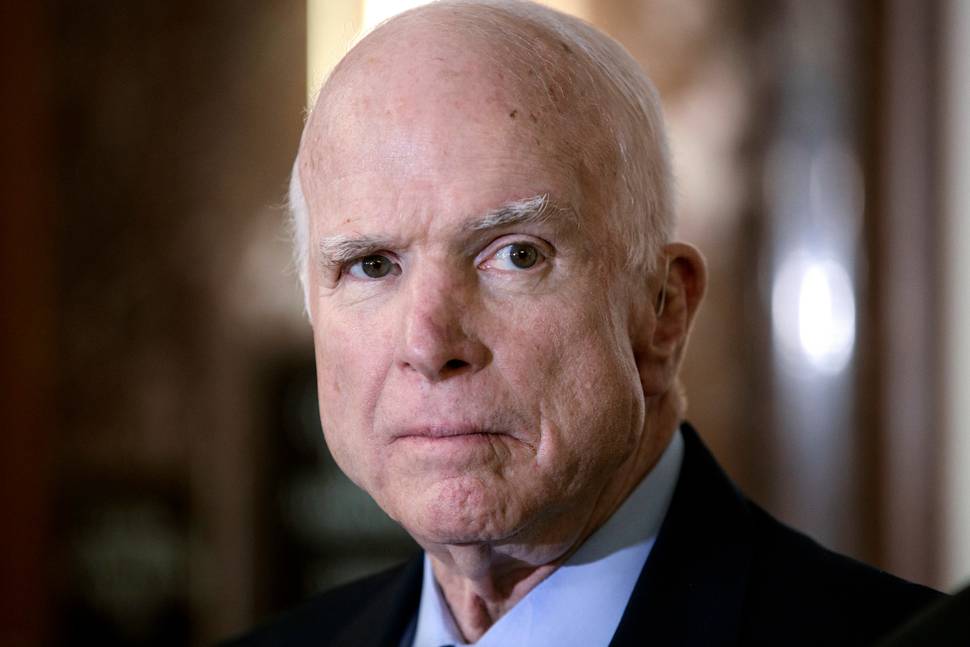 "Most patients do ultimately have to deal with this," said John de Groot, a neuro-oncologist at MD Anderson Cancer Center in Houston. "At some point, all existing therapies have been tried, and sometimes experimental ones have been tried, and despite that, the tumor continues to grow. The tumor burden becomes so great that doing anything additional becomes futile."
Sometimes patients are too sick to make the decision themselves, and rely on family members to decide when treatment should be ended, he said.
McCain's office has not released a full outline of planned memorial services, but friends and advisers have said they expect that there will be services in Phoenix and then Washington, followed by a private burial at the cemetery on the grounds of the Naval Academy.
McCain first arrived on the national stage as a prisoner of war in Vietnam after his plane was shot down over Hanoi in 1967.
In 1982, he was elected to the US House of Representatives. Four years later, he won his seat in the Senate, where he established himself as a leading voice on national security and foreign policy.
McCain has also cultivated a reputation as an independent willing to work with Democrats on issues such as immigration and campaign financing.
In recent years, he has clashed sharply with President Donald Trump, who said early in the 2016 presidential campaign that McCain was not a war hero.
Following his diagnosis and initial treatment, McCain returned to the Senate and cast a pivotal vote against a Republican bill to undo the Affordable Care Act. During a post-midnight roll call on the Senate floor, he turned his thumb down and effectively thwarted one of the GOP's signature promises of recent years.
Trump has continued to castigate McCain for the vote.
McCain collaborated with a longtime adviser, Mark Salter, on a memoir, The Restless Wave, that was released in May.
Among other things, the book captured McCain's difficult relationship with Trump. The president, he wrote, "has declined to distinguish the actions of our government from the crimes of despotic ones."