Congresswoman Cathy McMorris Rodgers, (R), Washington, the No. 4 in House Republican leadership, only got 47 per cent in yesterday's jungle primary for her Spokane-area seat.
She's leading her Democratic challenger, Lisa Brown, by 525 votes, or less than half a percentage point.
This is a race that has not been on the national radar.
US President Donald Trump won the district by 13 points, and McMorris Rodgers will probably be okay in November, but her poor performance is especially notable because this was once Tom Foley's district.
As the sitting Democratic Speaker of the House, Foley unexpectedly lost re-election in 1994 after a similarly weak showing in that summer's open primary against Republican George Nethercutt. The wave that year broke late, and incumbents who did not think they were in trouble found themselves washed away.
The President spiked the football once it appeared that Republican Troy Balderson would narrowly win a hard-fought special election in Ohio, but his celebration might be premature.
In a district Trump carried by 11 points in 2016, the state legislator is ahead by less than 1 per centage point.
Pat Tiberi, whose resignation to take a cushy job leading the Ohio Business Roundtable prompted the election, won re-election two years ago by 37 points.
With 100 per cent of precincts reporting, but provisional ballots that still need to be counted, Balderson has 50.2 per cent to Democrat Danny O'Connor's 49.3 per cent. Out of more than 200,000 votes cast, the Republican leads by 1754 votes.
The GOP must defend 72 districts in November that are rated as less Republican than Ohio's 12th Congressional District.
Democrats need to net 23 House seats to seize the majority.
Many of those 72 races don't currently look competitive, but yesterday's returns show there's good reason to believe some may come onto the map in the final weeks. Especially districts that are heavily suburban.
Here are issues from yesterday's contests: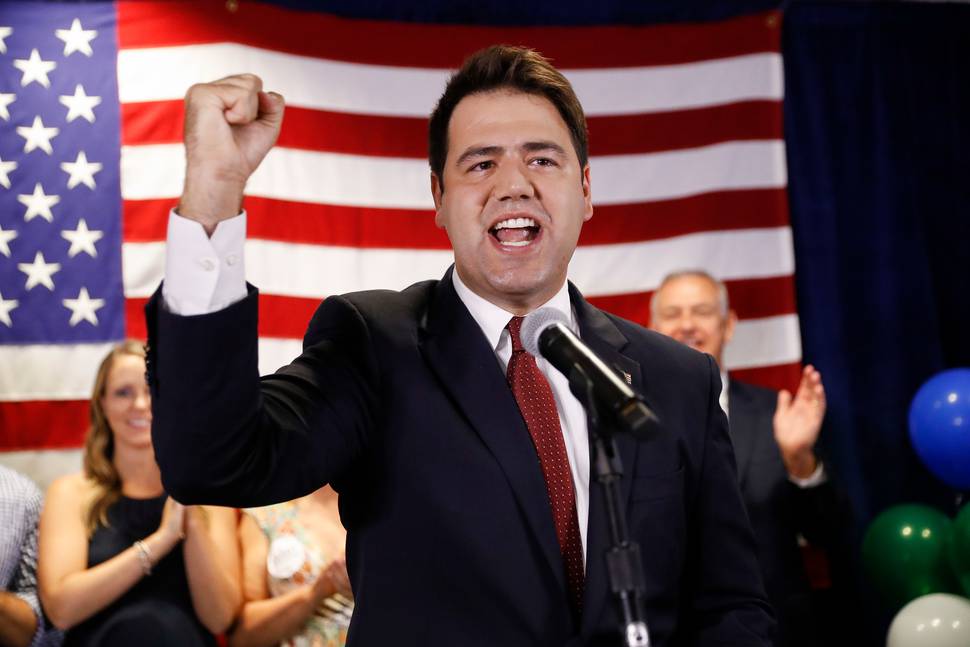 1) DEMOCRAT OVERPERFORMANCE

The trend of Democrats beating their 2016 performance by double digits continued.
"Ohio 12 looks to have shifted by about 13 points towards Democrats relative to its partisan lean (how we would expect it to vote in a neutral political environment)," Micah Cohen notes on FiveThirtyEight.
"That's just about in line with Democrats' average overperformance in these elections in the Trump era."
Remember, Congressman Conor Lamb, (D) Pennsylvania, eked out a victory in March in a district Trump won by 20 points.
From the House handicapper for the Cook Political Report: "If anything, tonight's #OH12 result reinforces our view that Dems are substantial favourites to retake the House in November."
From Nathan Gonzales, the editor of Inside Elections: "There will probably be a GOP effort to explain away a Balderson loss or narrow victory w/ a local excuse. But what could be the common denominator in closer-than-usual races in #OH12, #MT-AL, #KS04, #SC05, #AZ08, #PA18, #ALSen?"
From Frank Luntz, the GOP's focus group guru: "I'm sure Republicans will celebrate tonight, but a 1-point victory in that district is nothing to commend. #OH12. The GOP have to do something really significant in September if they want to keep the House in November."
2) TRUMP'S ROLE

Claiming victory, though AP has not called the race, Trump credited his visit to the district last weekend as a decisive factor: "When I decided to go to Ohio for Troy Balderson, he was down in early voting 64 to 36. That was not good. After my speech on Saturday night, there was a big turn for the better. Now Troy wins a great victory during a very tough time of the year for voting. He will win BIG in Nov."
But John Kasich, who held this seat before Tiberi, might have helped pull Balderson across the finish line as much as Trump did.
The outgoing Republican Governor, a leading Never Trump figure who is mulling a 2020 challenge to the President, recorded an ad and campaigned for the GOP nominee.
In Delaware County, a suburban Republican stronghold that has long been known as Kasich's base, several voters told the Guardian's Ben Jacobs that they supported Balderson despite feeling uneasy about Trump because he had the Governor's blessing.
O'Connor garnered 46 per cent in Delaware County, seven points more than Hillary Clinton two years ago. The last Democratic presidential candidate to carry Delaware County was Woodrow Wilson, when he beat Supreme Court Justice Charles Evans Hughes in 1916.
Even as his popularity threatens to cost Republicans the House, Trump continues to be a kingmaker in primaries. Michigan Attorney-General Bill Schuette easily beat Lieutenant Governor Brian Calley in the GOP primary for governor.
The GOP primary for Senate in Michigan was neck-and-neck until Trump endorsed John James. James won easily but is not expected to pose a serious threat to incumbent Democrat Debbie Stabenow.
3) RISING WOMEN

The BBC notes that women are breaking records this election cycle.
There are 11 female nominees for governor - one more than the previous record in 1994.
There are at least 182 female nominees for the House with another three leading close contests. the previous record was 167 in 2016.

4) TIGHTER RESOURCES

Republicans won't be able to replicate the resource advantage that they've had in these special elections this November.
GOP committees and outside groups spent about four times what their Democratic counterparts did, partly to compensate for O'Connor massively outraising Balderson among small-dollar donors online.
"This remains a very tough political environment and, moving forward, we cannot expect to win tough races when our candidate is being outraised," said Corry Bliss, who runs the Congressional Leadership Fund, the main House GOP super PAC. "Any Republican running for Congress getting vastly outraised by an opponent needs to start raising more money."
5) MIDTERM MESSAGES

The GOP still hasn't settled on a message for the Midterms.
"Virtually every Democratic special-election candidate has run on healthcare and economic fairness - not taking direct aim at Trump and his administration as much as a Republican policy agenda that they say favours the rich and well-connected over ordinary Americans," Mike DeBonis notes.
"Republicans, meanwhile, have flitted from issue to issue seeking to promote their own candidates and disqualify Democrats. Early hopes of riding on last year's GOP tax cuts to victory have largely faded along with the tax bill's popularity; more recently, Republicans have seized on calls by some liberal Democrats to abolish the Immigration and Customs Enforcement agency as fodder for attacks."
6) THE REMATCH

Other Democrats are handling the Nancy Pelosi problem better than O'Connor did. O'Connor, a 31-year-old county recorder, won the nomination because few Democrats thought this race was winnable. He botched an interview with MSNBC's Chris Matthews, admitting that he might vote to make Nancy Pelosi the Speaker if Democrats win the House. This gave powerful ambition to Republicans.
To be sure, the 56-year-old Balderson was not a stellar candidate either. On the eve of the election, he told voters in his hometown of Zanesville: "We don't want somebody from Franklin County representing us."
The county, which includes Columbus, is 23 per cent African American. A small part of Franklin, however, is in the district. You can bet Democrats will use this during the November rematch.
The same two candidates will face each other again in November, and the race will likely be very competitive. Connie Schultz, who is married to Senator Sherrod Brown, (D), Ohio, notes that students will be back at colleges in November and therefore easier to turn out.