Prison officer Amy Connors, suspended after reportedly having sex with a cop killer in his Kempsey jail cell, is just one of many female officers having affairs with criminals behind bars.
Radio 2GB reports that Connors allegedly sneaked into the cell of Sione Penisini — who is serving 36 years for murdering Senior Constable Glenn McEnallay in 2002 — while working the night shift at the Mid North Coast Correctional Centre.
Connors, who has been suspended for her job as a prison guard, follows Kempsey officer Jody Marson who was sacked for having a relationship with one punch killer Kieran Loveridge, also in Kempsey.
But 2GB reported on Wednesday that female prison officers have also been having sex with inmates at Long Bay, Silverwater and Lithgow correctional centres.
GB host Ray Hadley described New South Wales prisons as "hotbeds" of sex between female officers and both male and female inmates.
He also read out on air a NSW parole officer's email about a female prison officer's sexual relationship with an outlaw motorcycle gang member inmate.
Other male inmates having sex with female prison guards include Jarad Smith, who killed two pedestrians while drug driving in 2014 and Macquarie Field rioter, Jesse Kelly.
A female officer changed morning shifts to have sex with Smith in the Long Bay jail gym, and also allegedly smuggled steroids to him.
Smith was a P-plater with cocaine, MDMA and a 0.201 alcohol level in his system when he struck Katherine Pracy and Gary Kelly on a Rozelle footpath in December 2014.
Both victims died as a result.
Smith, who pleaded guilty to two counts of aggravated dangerous driving causing death, is now on day release until his parole in September 2019,
The prison officer caught after other guards observed her having sex with Smith in the Long Bay gym was allowed to resign.
The woman had since posted on Instagram a photograph of the ring finger on her left hand tattooed with her inmate lover's initials.
Another female prison officer may have been under the influence of methamphetamine while having sex with Jesse Kelly in Silverwater Correctional Centre
Kelly had returned to prison in 2014 after breaching his parole for alleged ice possession.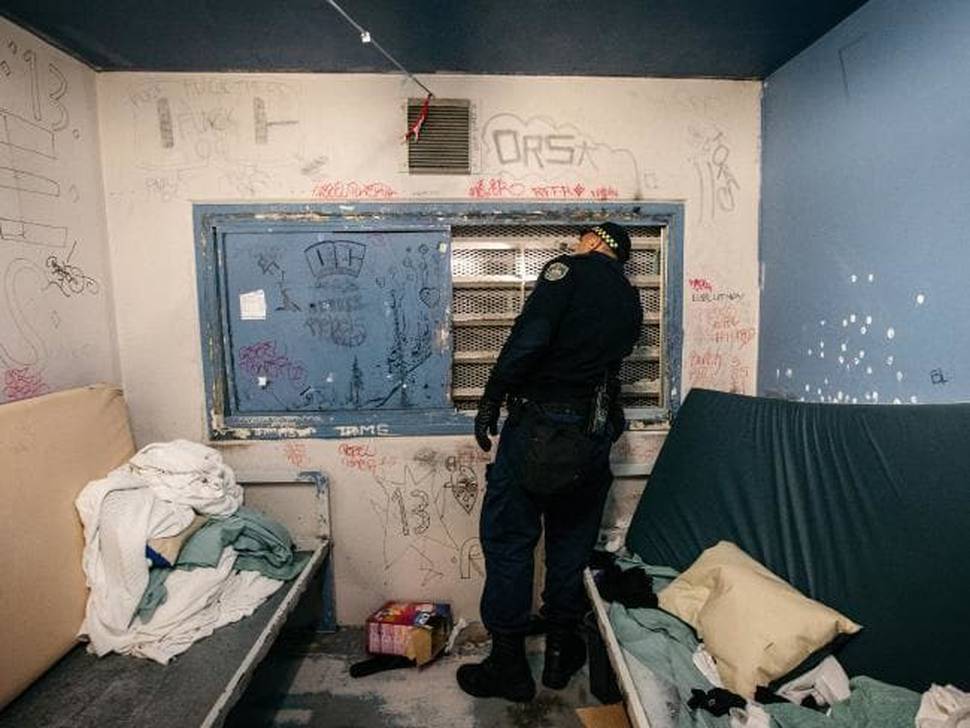 Kelly made national headlines in 2005 after driving a stolen car which slammed into a tree during a police pursuit, killing Matthew Robertson, 19, and a 17-year-old.
He hid in the bush for 12 nights as Macquarie Fields exploded into four nights of rioting between residents and police, and was sentenced for dangerous driving causing death.
Hadley reported that another Silverwater inmate had sex with a prison officer who was moved on to Parklea Correctional Centre.
Following 2GB's revelations about Penisini's alleged sexual relationship with Connors, NSW Corrective Services moved him from Kempsey prison overnight on Monday.
Penisini is now reported to be in Goulburn Correctional Centre, possibly in the High Risk Management prison, also known as Supermax, within the complex.
Penisini was one of four men convicted over the death of 26-year-old Glen McEnallay.
Senior Constable McEnallay was chasing a stolen car in Hillsdale in Sydney's east on March 27, 2002, when the car crashed.
Before back-up could arrive, shots were fired from the vehicle less than 3m from McEnallay's police car.
He was struck three times in the head and chest, and clung on for a week before his life support was switched off.
Penisini, the gunman, was convicted of his murder and won't be eligible for parole until 2029.
Brothers Motekiai and John Taufahema were convicted of manslaughter after having their murder convictions overturned on appeal, and have since been deported back to Tonga.
Meli Lagi was convicted on firearms offences.
NSW Corrective Services minister David Elliott was forced to apologise to McEnallay's family following revelations about Connors' affair with Penisini.
Elliott said penalties would be introduced for such a breach, which endangered the lives of other prison officers on duty in NSW correctional centres.
In 2015, Marson was sacked for having an improper relationship with 21-year-old inmate Loveridge at Kempsey jail.
Marson, an ironwoman competitor then aged 30, was found to have had a relationship with Loveridge inside the Kempsey cell he shared with another inmate.
Loveridge, who was moved to Supermax after allegedly stomping on another inmate's head in Kempsey, is serving 14 years for inflicting fatal head injuries on 18-year-old Thomas Kelly in 2012.
NSW Correctives Services is investigating the alleged prison assault by Penisini on another inmate in Kempsey after several weeks surveillance of the killer inside the facility.