Warning: Graphic
The way Douglas Deacon treated his girlfriend is almost unspeakably brutal.
The abuse the 24-year-old inflicted against his partner of three years, Jade McDonald, 23, who he met through a dating site, escalated after Australian man Deacon lost his job and started drinking heavily.
Most of the violence occurred in the home they shared in Brisbane.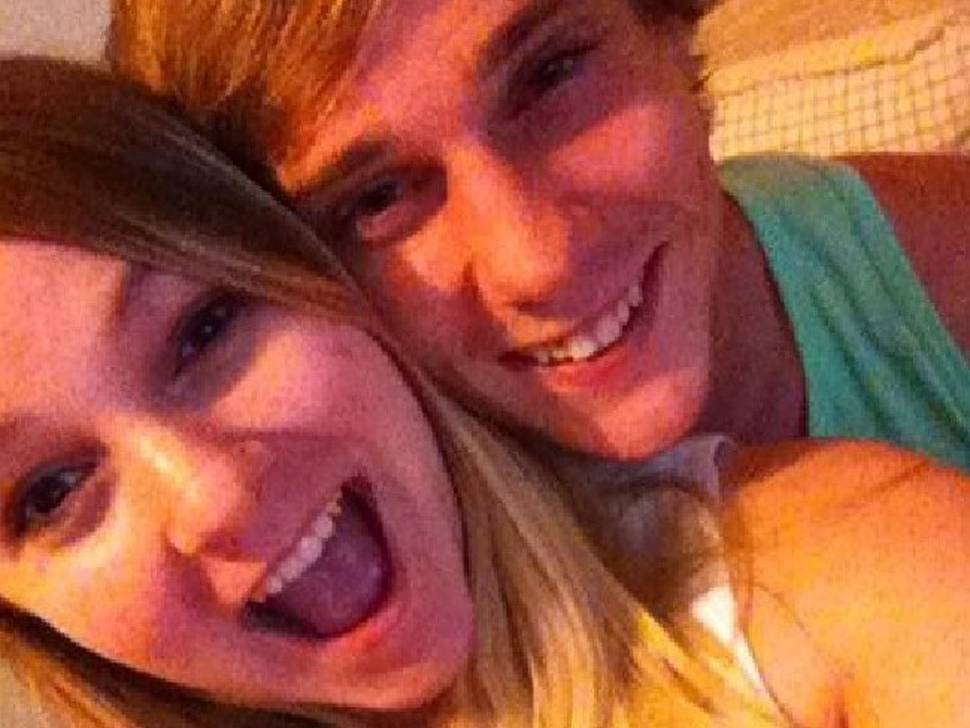 The assaults started early in 2016 when Deacon began accusing Ms McDonald of having an affair with his mother's boyfriend.
According to court transcripts he began screaming and yelling at Ms McDonald, grabbed her from behind as she left the room and strangled her on the floor until she began to get dizzy.
The attack only stopped after Deacon's mother pulled him off.
Some weeks later, he strangled her as she lay in bed before whispering in her ear: "I'm going to kill you tonight, you'll wake up dead in the morning."
When she tried to get out of the bed, Deacon burned Ms McDonald with a cigarette and pinned her up against the wall by her throat before throwing her against a television unit, Brisbane District Court was told.
Weeks later, he threw her down a flight of stairs, spat on her and repeatedly punched her in the stomach, breaking her ribs, after finding out she told a friend she had a miscarriage.
The shocking violence came to a head when Ms McDonald arrived to pick up Deacon from a home in the Brisbane suburb of Stafford, but left when she found he was drunk as she was worried she would be abused.
The court heard Deacon forced his way into the passenger seat of the car and told the victim to "drive" while spitting on her, threatening to kill her and hitting her across the face causing her nose and mouth to bleed.
He then grabbed her head and hit it on the gear stick while she was driving, causing her to black out.
The victim tried to pull over because her eyes were getting blurry but Deacon grabbed hold of the steering wheel and caused the car to swerve into oncoming traffic.
The pair hit another car and Ms McDonald was trapped inside the vehicle.
When tested, Deacob's blood alcohol reading was 0.186 — more than three times the legal limit to drive.
When Ms McDonald was eventually pulled from the wreckage, she confessed Deacon's history of abuse to a paramedic.
She sustained horrific injuries in the accident, including 17 broken bones. Her ribs, nose, fingers, toes and cheekbone were shattered. A range of metal plates and pins now hold her body together.
As Ms McDonald lay in hospital with bones "like broken egg shells" following the accident, Deacon discharged himself.
Before he left, 9 News reports that he made a chilling threat to the security guards protecting her.
"Tell Jade I'm going to kill her next time I see her".
Deacon eventually pleaded guilty to 11 offences including assault occasioning bodily harm, strangulation and dangerous operation of a motor vehicle causing grievous bodily harm.
Easrlier this month he was sentenced to five years jail for the protracted and degrading assaults on Ms McDonald. Including time already served in custody, he will be eligible for parole in October, after serving a third of his five year sentence.
During the sentencing at the Brisbane District Court, Judge Jennifer Rosengren said Deacon had served more than 400 days on remand as "eventually the community says you are a danger to your loved ones".
The court heard Deacon had previously been sentenced for a domestic violence offence, which included locking his own mother out of her home.
"This is a serious example of an infliction of violence against anyone, but it has been made all the worse that it was your partner," Judge Rosengren said.
"It is the most gross abuse of trust that someone places in you to assault her, not only on these repeated occasions, but in the violent way you did."
Speaking to 9 News, Ms McDonald says the fact that Deacon may soon be back on the streets makes her "angry and scared".
"I was so angry that that is all that he got," she said.
"We don't even know if I'm going to be able to go back to work because of my injuries. My whole life is different now."
A crowd-funding page "Jade's Recovery Fund" has been set up to support Ms McDonald in her rehabilitation.
McDonald told 9 News she did try to leave the relationship but the abuse only got worse.
She also hid the violence from family and friends, fearing they would be hurt too.
Ms McDonald wants people to know that domestic violence "doesn't discriminate, it can happen to anyone" and to reach out for support if you are a victim.
"It's okay to tell somebody. Even though, yes it's embarrassing, you need to not look at it like that … your life could be in danger," she tells nine.com.au.
"There's plenty of help lines out there that you can call and those people are all amazing, they deal with it every single day. They know what to do and they're willing to help you."
If you're in danger now:
• Phone the police on 111 or ask neighbours of friends to ring for you.
• Run outside and head for where there are other people.
• Scream for help so that your neighbours can hear you.
• Take the children with you.
• Don't stop to get anything else.
• If you are being abused, remember it's not your fault. Violence is never okay
Where to go for help or more information:
• Women's Refuge: Free national crisis line operates 24/7 - 0800 refuge or 0800 733 843 www.womensrefuge.org.nz
• Shine, free national helpline 9am- 11pm every day - 0508 744 633 www.2shine.org.nz
• It's Not Ok: Information line 0800 456 450 www.areyouok.org.nz
• Shakti: Providing specialist cultural services for African, Asian and middle eastern women and their children. Crisis line 24/7 0800 742 584
• Ministry of Justice: www.justice.govt.nz/family-justice/domestic-violence
• National Network of Stopping Violence: www.nnsvs.org.nz
• White Ribbon: Aiming to eliminate men's violence towards women, focusing this year on sexual violence and the issue of consent. www.whiteribbon.org.nz

How to hide your visit
If you are reading this information on the Herald website and you're worried that someone using the same computer will find out what you've been looking at, you can follow the steps at the link here to hide your visit. Each of the websites above also have a section that outlines this process.