A father has slammed an anonymous driver who left a vile note on his wife's windscreen branding her and their disabled daughter "selfish" for parking in a blue badge space.
Alan Tanner, 52, called the motorist a coward and warned him not to judge a book by its cover in the future.
Julie Tanner, 55, and daughter Paige, 23, were out shopping in Reading when they parked their car in a disabled spot, according to the Daily Mail.
Paige has a blue badge because she suffers from the chromosome disorder Tetrasomy 18p, a condition that has left her unable to do anything for herself and reliant on round-the-clock care.
When Paige and Julie returned to their car they found the sick message wedged under the windscreen wiper.
The note read: "You will be reported for illegal use of a blue badge space.
"I witnessed you and your young able bodied daughter park the car at the precinct with no sign of disability.
"This selfish action deprives a disabled person of somewhere to park."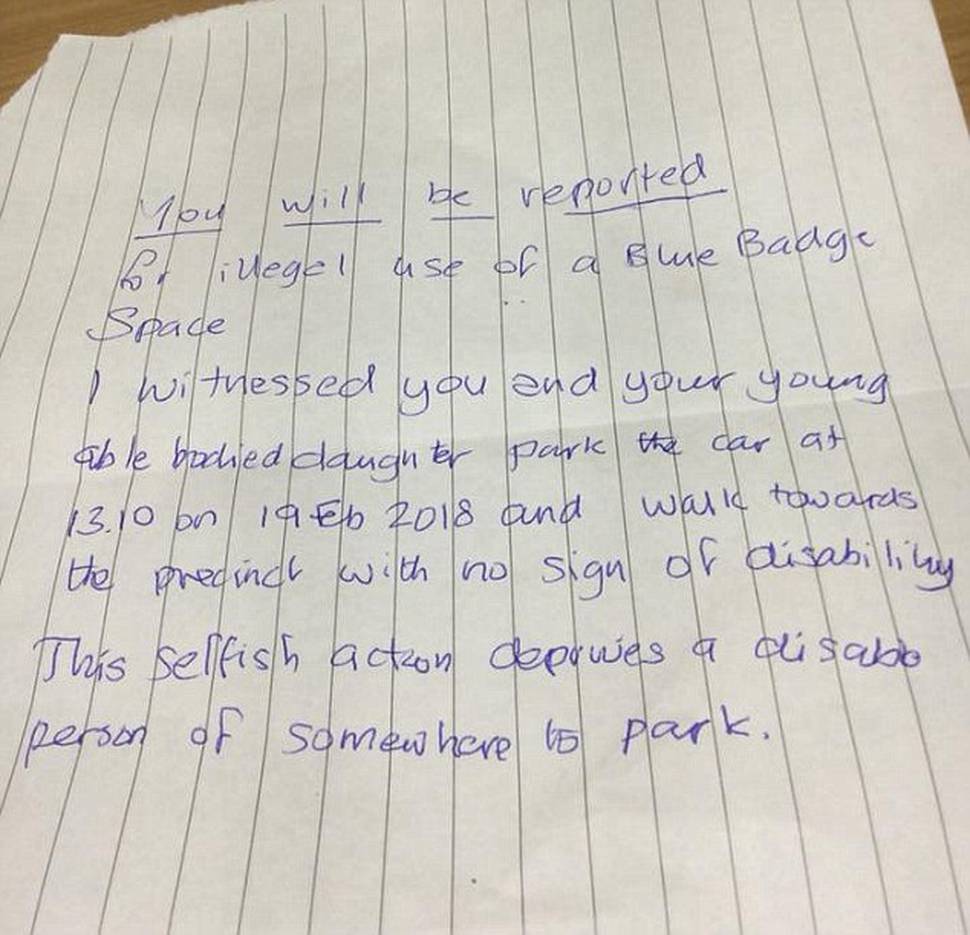 Tanner, from Reading, Berkshire, said his family were upset by the note and he slammed the culprit as "ignorant".
He told the MailOnline: "I think it's completely cowardly. I would like them to see her for a week and then they would see why she needs that blue badge.
"Do you have to be in a wheelchair now for people to accept you're disabled?
"You shouldn't judge a book by its cover. On top of that my daughter is severely disabled and it is ignorant for someone not to notice that.
"My wife devotes her life to being Paige's full-time carer, she can't look after herself, take care of her hygiene or walk long distances.
"I would like to enlighten people and make them realise that disabilities come in all shapes and sizes. For my family we'd like an apology- I don't think I'll ever get it though."
Tanner posted a message aimed at the motorist onto his Facebook account.
He said: "To the person that wrote this letter, do not judge unless you know the full details of someone's disability.
"Paige is not a young girl as you stated but a 23-year-old adult who is severely mentally disabled and requires one to one support at all times."
Tanner uploaded a picture of the note to social media in the hopes that the culprit would see it.
Many users commented on the post offering their sympathies.
Kerry Mills wrote: "Absolutely disgusting I hope the person that wrote this is very ashamed and u get an apology. Think before you judge."
Sybil Avann commented: "This was not an illegal use of a disabled badge. I know this family and whoever you are, should be ashamed of yourself."
Natalie Leng said: "Disability comes in many different forms so many that are invisible to others ... such a shame that people feel that it is OK to comment when they know very little."
Lisa Brown wrote: "Disgusting...disabilities come in all shapes and sizes...its outrageous that people judge when they don't know the facts."