Las Vegas gunman Stephen Paddock reportedly fired special "incendiary" bullets from his hotel room at a 43,000-barrel fuel tank in an attempt to cause a massive explosion.
Those types of rounds, meant to ignite what they hit, were found inside Paddock's room at the Mandalay Bay hotel and near the fuel tank a short distance away on the grounds of McCarran International Airport, law enforcement sources told CNN.
Authorities have previously disclosed that Paddock fired at the tank from his 32nd floor hotel room and and struck it with two rifle rounds, when he opened fire on the crowd at a country music festival, killing 58 people and wounding close to 500 others.
It has now been revealed that the 64-year-old killer used incendiary rounds to fire at the tank, which contains jet fuel.
CNN is reporting it is unclear if the rounds that struck the tank were also of the incendiary variety. Chris Jones, an airport spokesman, said he was unaware of any rounds being recovered other than those that struck the tank.
More than a week after the deadliest mass shooting in modern US history, investigators are still stumped about what led high-stakes gambler Paddock to carry out his horrific attack. It's an answer they may never find.
The FBI and Las Vegas police have sorted through more than a thousand leads and examined Stephen Paddock's politics, finances and social behaviour. But the typical investigative avenues that have previously helped uncover motives in past shootings have yielded few clues.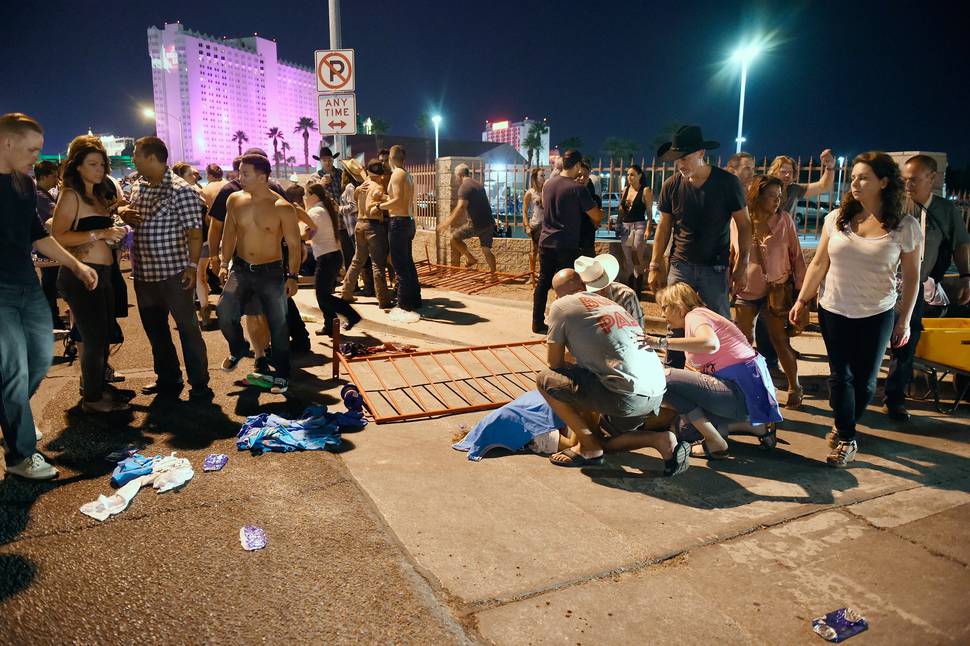 Clint Van Zandt, a former FBI profiler and hostage negotiator, says in not leaving behind an easily accessible manifesto, Paddock defied societal expectations that mass murderers will want their disturbed motives known to the world.
Meanwhile, the leader of MGM Resorts International - which owns the Mandalay hotel - says the company is heartbroken after the tragedy. CEO Jim Murren made his first public appearance since the tragedy and said the company is unwavering in its commitment to Las Vegas and has been working around the clock to do what is right and to help those in need.
Murren says he has witnessed "thousands upon thousands of humane acts" following the shooting. His remarks during a convention panel in Las Vegas did not address any details of the investigation.
FBI agents returned to Paddock's house in Reno after local police determined someone had broken into the home over the weekend.
Reno police officer Tim Broadway confirmed on Tuesday that police were called to the house early Sunday by a neighbor who noticed a light on inside the home in an upscale community on the edge of the Sierra foothills along US Interstate 80.
Broadway says the officers discovered "someone had broken into the house" and immediately contacted the FBI. He says it's not clear how the person or persons gained entry or whether anything was taken.
Broadway says they don't have any suspects or descriptions of possible suspects. He told The Associated Press, "Nobody really saw anything, just a light was on with nobody in the residence."
He says local police are working in conjunction with the FBI to make sure no one else enters the home.
The daughter of a woman injured during the Las Vegas shooting says she's confused about why police have changed the timeline of the shooting.
Nicole Rapp said she's "having a hard time wrapping my head around" the change announced by police a day earlier. Her mother was trampled by a stampede of concertgoers as bullets rained from the Mandalay Bay hotel and casino.
Clark County Sheriff Joe Lombardo said on Monday that Stephen Paddock shot and wounded a Mandalay Bay security guard outside his door and sprayed 200 bullets down the hall six minutes before shooting at the concert-goers.
Police previously said Paddock shot the guard after unleashing the barrage of gunfire on the crowd.
Rapp says it is traumatic for the victims and their families not to be sure of what happened.
The security guard who was shot in the head while helping concert-goers flee the recent mass shooting will be laid to rest on Thursday.
Officials say services are planned for 21-year-old Erick Silva this week. Jay Purves, the vice-president of Contemporary Services Corporation's Las Vegas branch, said the funeral for his employee will be held at 10 am on Thursday at Davis Funeral Homes and Memorial Park in Las Vegas.
Silva was shot while helping people climb over a barricade.