This is the shocking moment a prisoner collapses from the effects of the so-called "zombie" drug Spice while fellow inmates laugh hysterically and film him convulsing for entertainment.
Bullying lags laugh and hold the inmate down "so screws won't hear" as he shrieks in terror in disturbing footage filmed on a banned mobile phone at a UK jail, reports the Daily Mail.
They refusing to get him help as the prisoner kicks out wildly on the floor.
The chaotic scenes lasted for nearly three minutes without appearing to attract the attention of prison guards.
When the prisoner started to fit, the inmate behind the camera said "he's not gonna die" and kept filming as the convicts roared with laughter.
Critics claim this is part of a sickening trend sweeping jails across the country known as "Spicehead baiting" - where inmates are offered the drug for free, but risk being humiliated on camera.
Footage of the incident emerged on social media yesterday, though the location of the prison is unknown.
It shows an inmate holding a home-made pipe, containing a large bud of the synthetic cannabis substitute.
The inmates gasp at the sight of it and pressure one prisoner to smoke.
A convict lights the pipe and the man inhales to chants of "suck that, suck that".
Raucous cheers go up as the lags tell him: "You're going down, boy."
He staggers back onto the bed in a drug-addled stupor after putting the pipe down.
An inmate asks: "On a scale of one to 10, mate, how the f*** do you feel?"
Unable to comprehend, he can only murmur: "Huh?"
He starts rocking back and forth on the bed as if possessed as his condition deteriorates rapidly.
One lag says: "He's gone, he's gone. Look at his feet. Oi, is he gonna f*** up on my bed?"
A tattooed inmate then hops onto the mattress next to him and in a crazed voice screams: "Ho-ly s***."
When one inmate voices fears over his safety, the man filming responds: "He's not gonna die. He's tryna kick me. Yo, don't try and kick me."
The man squirms around on the bed and groans in pain, drawing more laughs from the crowd.
Curling up in a ball, he starts kicking out frantically before rolling off the bed and collapsing on the ground as another inmate tells viewers: "Don't take drugs."
Still the lags refuse to help and only become concerned when he kicks a nearby cabinet, with one shouting: "Oi, grab the stereo. Grab the stereo."
The footage cuts out after a prisoner warns: "Hold him, the screws is gonna come."
The incident marks the latest in a spate of video leaks highlighting the drugs epidemic plaguing British jails.
The number of prisoner deaths linked to drugs such as Spice and Black Mamba has tripled in recent years, with 58 inmates losing their lives between 2013 and 2016.
Last month, police warned that repeat offenders were trying to get themselves locked up so they could smuggle Spice into prisons and deal it for huge profits.
Ex-cons have previously revealed an inmate can make between £1,500 and £3,000 profit on an ounce of Spice - a quantity which costs as little as £50 on the street.
The Class B drug - which was sold legally for years - is as physically addictive as heroin and as psychologically addictive as crack cocaine, experts say.
The government's jails watchdog last month called for airport-style security to be introduced at every UK prison to stop the flow of illegal substances.
Peter Clarke, chief inspector of prisons, made the recommendation as he revealed he was being bombarded with letters from inmates fed up with drug-fuelled violence behind bars.
He said the influx of drugs like Spice had made some jails "virtually unmanageable".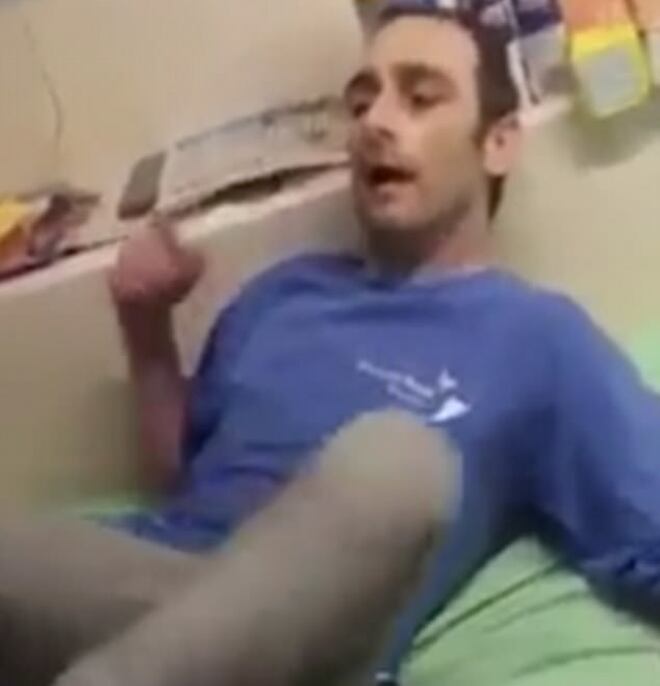 The Ministry of Justice insisted it had a zero-tolerance approach to drug use in prisons and said inmates are routinely tested for banned substances.
A Prison Service spokesman said: "This behaviour is completely unacceptable and we will not hesitate to take action against the prisoners involved.
"We have a zero tolerance approach to drugs in prisons and are taking unprecedented action to tackle them.
"Those who break the rules will be punished and can face extra time behind bars.
"We are committed to making prisons places of safety and reform and are stepping up measures to find and block illegal mobile phones."