Key Points:
At least 58 dead as gunman opens fire at world-famous hotel
More than 500 injured after concert-goers fired upon from high-rise
Tourists run for cover amid gun fire: 'I saw a girl shot in the head'
Police shot the gunman, 64yo Vegas man Stephen Paddock
Almost 60 people are now confirmed killed and 515 injured after a gunman opened fire from the 32nd floor of one of Las Vegas' most famous hotels, in the worst shooting massacre in American history.
The death toll was now at 58, Las Vegas sheriff Joseph Lombardo said today.
President Donald Trump this morning [NZ time] described the massacre an "act of pure evil".
"We cannot fathom their pain, we cannot imagine their loss," Trump said.
"In times such as these I know we are searching for some kind of meaning in the chaos, some kind of light in the darkness," he said. "The answers do not come easy. But we can take solace knowing that even the darkest space can be brightened by a single light, and even the most terrible despair can be illuminated by a single ray of hope."
The gun attack on a country music festival Sunday in Las Vegas killed at least 50 people and injured more than 400 others.
Las Vegas mayor Carolyn Goodman described the gunman, 64-year-old Stephen Paddock, as a "crazed lunatic full of hate". Paddock, who shot and killed himself as police entered the hotel room where he was holed up, acted alone and his motives are not yet known.
The gunman targeted hundreds of people at an outdoor country music festival on the Las Vegas Strip, raining down rapid fire from the 32nd floor of the Mandalay Bay Hotel and Casino for several minutes before he was shot dead by police.
The death toll makes the attack the deadliest mass shooting in US history, eclipsing last year's massacre of 49 people at an Orlando nightclub.
The gunman opened fire from the Mandalay Bay at the open-air music festival being held nearby.
Stephen Paddock acted alone and was not believed to be connected to any militant group, Lombardo told reporters.
"We have no idea what his belief system was," Lombardo said. "Right now, we believe he was the sole aggressor and the scene is static."
Police also have located 62-year-old Marilou Danley, who was wanted as a person of interest in this incident. Lombardo gave no details of whether she was suspected of involvement in Sunday night's (Monday NZT) attack but described her as an "associate".
Lombardo said rumours of other shootings or explosives such as car bombs in the area were false.
Video taken of the attack showed panicked crowds fleeing as sustained rapid gunfire ripped through the area.
"I heard what we thought was firecrackers, and we looked to the right of us and there was a woman down covered in blood," a witness identified as Emily told local Fox affiliate KLAS.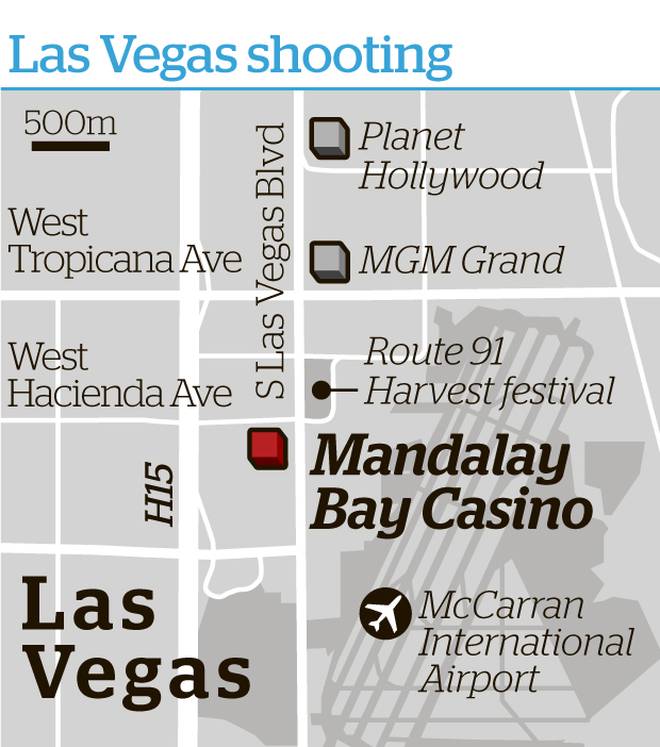 "From that point on we just ran. We hid wherever we could, and now in an [aeroplane] hangar.
"We had no idea, it was just rapid fire. We all thought we were dead. It was awful. It just kept going, and going and going.
"It felt like an eternity but it went for at least several minutes."
A witness who gave her name as Christine was in tears as she told local TV that she saw a man shot in front of her.
"They were trying to take him out and he was all bloody, and unconscious," she said.
"My friend was helping him out and they got him out, and we ran."
She said people were hiding wherever they could, including under her car.
"Everyone was telling us to run as fast as you can," she said.
"There was a gentleman who was shot and he was asking me for help."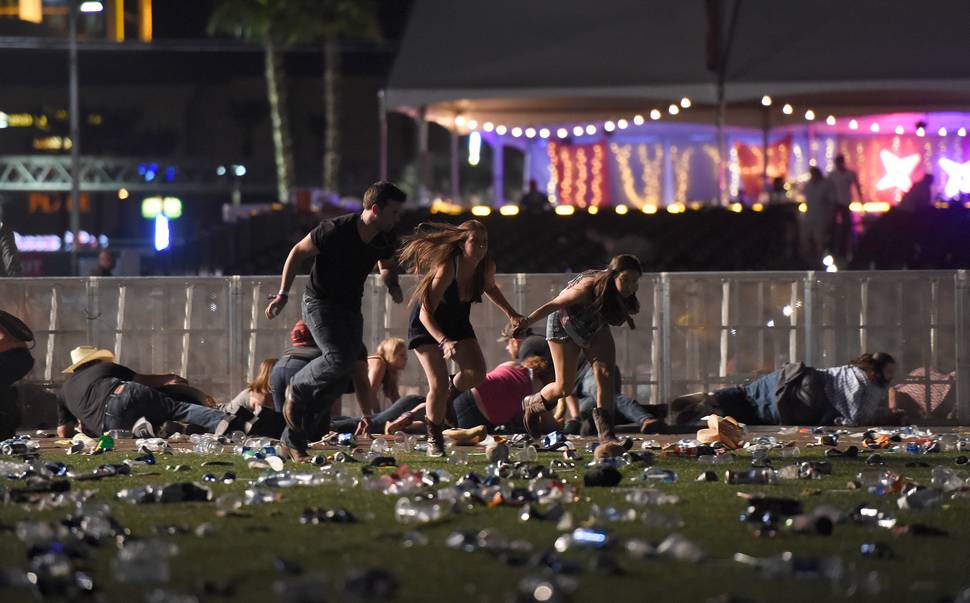 A witness said she heard multiple gunshots before fleeing, and said she "crawled over dead people" as she tried to get away.
Mike McGarry, a 53-year-old financial adviser from Philadelphia, was at the concert when he heard hundreds of shots ring out.
"It was crazy - I laid on top of the kids. They're 20. I'm 53. I lived a good life," McGarry said. The back of his shirt bore footmarks, after people ran over him in the panicked crowd.
Some police officers took cover behind their vehicles while others carrying assault rifles ran into the hotel and casino.
Many casinos in the area locked their doors during the incident to keep out any potential attackers, some using handcuffs to do so, according to witnesses.
"Caesar's Palace had locked their doors. They wouldn't let you in," said Adam Mitchell, a 31-year-old tourist visiting from Britain.
Authorities shut down part of the Las Vegas strip and Interstate 15.
McCarran International Airport officials say all flights in and out have been temporarily halted.
A spokesman for New Zealand's Ministry of Foreign Affairs and Trade said MFAT was responding.

He said there were 44 New Zealanders registered on SafeTravel as being in Las Vegas and 2157 in the USA.

"The New Zealand Consulate-General is in contact with the local authorities. There are no indications at this stage that any New Zealanders have been caught up in the incident," he said.

"Any New Zealanders in the vicinity are advised to stay indoors, follow any instructions issued by the local authorities and let their family in New Zealand know they're okay.

"New Zealanders who require consular assistance are advised to contact the New Zealand Consulate-General in Los Angeles: +1 310 566 6555."