By Todd Frankel, Avi Selk, David A. Fahrenthold
The storm once known as Hurricane Harvey made its second landfall today, dumping record rains and spurring additional flooding in small Texas cities that lie east of now-devastated Houston.
Harvey, which had swung out into the Gulf of Mexico again, came ashore near the Texas-Louisiana border. Its rain bands preceded it, pounding Texas towns including Orange, Port Arthur and Beaumont with more than 60cm.
City officials said much of Port Arthur - a city of 55,000 - was under water. A shelter for flood victims flooded. One official estimated that water had entered one-third of the city's buildings.
"We need boats. We need large trucks, and we need generators," said Tiffany Hamilton, a former city council member in Port Arthur who was helping to coordinate relief efforts in a city that also is without electricity. "The entire city has been flooded."
About 130km to the west, the Houston area was just beginning to recover from the biggest rainstorm in the recorded history of the continental United States.
Nearly 35,000 people were in shelters. Thousands of homes were still submerged. At least 37 people were dead, and that number was climbing as water receded, revealing the storm's awful toll.
In Harris County, which includes Houston, authorities finally located a van, containing six members of a family, that had been washed off the road days earlier. All six were dead.
A few kilometres away, authorities discovered the bodies of two friends who had gone out in a boat, trying to rescue neighbours. They lost control in the current, and drifted towards the sparks of a downed power line. They jumped in, to avoid the current. The electricity was in the water, too.
Three other men, including two journalists from a British newspaper, suffered electrical burns but survived by clinging to a tree above the water.
Houston Police Chief Art Acevedo said 20 people remained missing in the city. At one point, that figure was as high as 47, but Acevedo said 27 people have been found alive and removed from the list.
The remnants of Harvey had moved into Louisiana, travelling at 12 km/h to the northeast. Its peak winds decreased to about 65 km/h and the storm was downgraded to a tropical depression.
Louisiana officials, who had worried that Harvey might devastate their state as well, said the threat of flooding seemed to be lessening.
"Somewhere between being complacent and being panicked is the right place" to be, said Governor John Bel Edwards, D. "That's where we're going to ask the people of Louisiana to settle."
More than 1.2m of rain fell onto Houston over four days, turning the country's fourth-largest city into a sea of muddy brown water, boats skimming along what had been neighbourhood streets in search of survivors.
At the height of the flooding, between 25 and 30 per cent of Harris County - home to 4.5 million people in Houston and its near suburbs - was flooded as of yesterday, said Jeff Lindner, a meteorologist with the Harris County Flood Control District. That is an area as large as New York City and Chicago combined.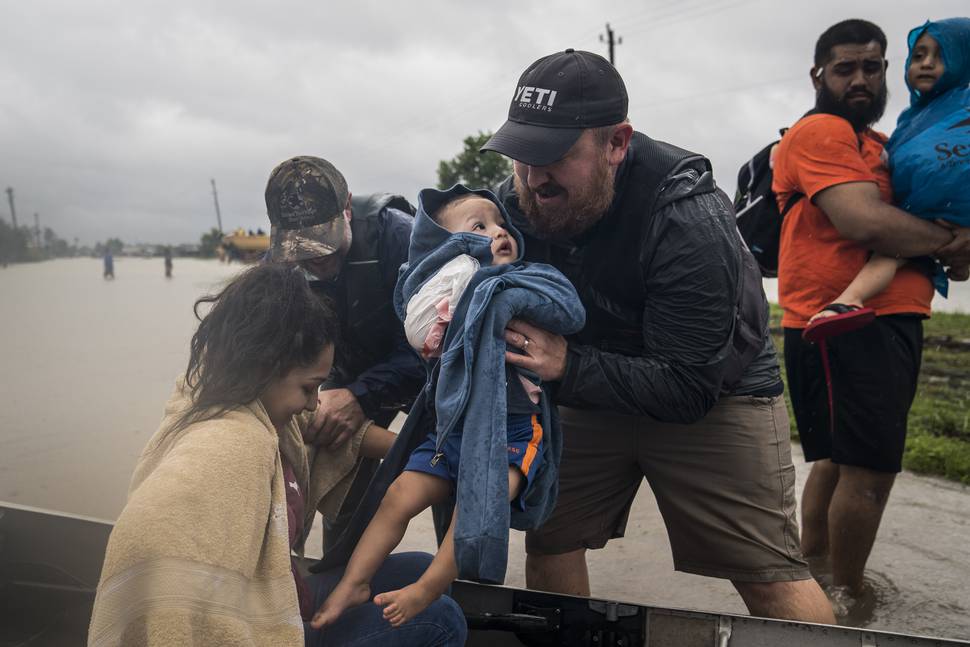 More than 210,000 people have registered for federal assistance, a number that is expected to increase, said Texas Governor Greg Abbott, R. William "Brock" Long, administrator of the Federal Emergency Management Agency (FEMA), said it will take "many, many years" before the full scope of Harvey's effect is clear, he said.
Elaine Duke, the acting homeland security secretary, said at the same briefing Wednesday: "We expect a many-year recovery in Texas, and the federal government is in this for the long haul."
President Donald Trump has pledged swift federal aid in response to Harvey's devastation. Abbott said that given the sheer number of people and the geographic area affected, he expects the government's aid package "should be far in excess" of the roughly US$120 billion allotted for Gulf Coast recovery after Katrina.
Some of Houston's bayous began to retreat inside their banks - although Buffalo Bayou, Houston's main river, was still rising in some sections because of the release of water from upstream reservoirs.
"The watersheds are falling, and while most of them remain well over their levels, and some remain at record levels, the water levels are going down," Lindner said. But he cautioned that some homes already under water may "degrade".
Across Texas, the storm shut down 11 oil refineries and curtailed production at nine others, while causing damage that led to at least 45 releases of harmful chemicals. In Crosby, Texas, a chemical plant was in critical condition after flooding disabled its refrigeration system and two backup power generators, raising the likelihood that the volatile chemicals usually kept at cool temperatures on the site would warm up and catch fire or explode.
Arkema, a French-based maker of organic peroxides used in plastics, pharmaceuticals and construction materials, removed all employees from the plant. Harris County police were scrambling to keep people at a distance.