When help finally came, the Houston floodwater was so high that the rescue boat motored right up to the balcony of Stephanie Browning's second-floor apartment.
Browning, her boyfriend, his two young sons, their two dogs and eight neighbours clambered into the boat. It brought them to a huge city dump truck, which eventually deposited them, soaked but safe, at the George R. Brown Convention Centre, which has been turned into a cavernous shelter for Harvey evacuees.
"It was really scary - you're in the boat and you don't see roads, you see tops of trees," said Browning, 41, sitting on a cot with her family amid thousands of identical cots.
From Houston to Austin to San Antonio to Dallas, thousands of people whose lives have been upended by Harvey are living in shelters that range from this hall, one of the nation's largest convention centres, to churches, gyms, tiny recreation centres - even a furniture store.
Officials say more than 30,000 people may be forced from their homes by Harvey, and many whose homes have been severely damaged or destroyed by deadly winds and astonishing floodwaters may need shelter for weeks or months to come.
About 3200 people were at the convention centre, and a steady stream of newcomers was arriving in buses, in trucks, in cars and on foot.
"People are finding their way here and coming on in and getting registered," said Lloyd Ziel, a Red Cross official. The shelter's capacity was about 5000, he said.
As the rescued streamed in, hundreds of volunteers sorted through huge piles of donated clothing, shoes, pet food and other supplies that were being dropped off by donors in huge plastic bags. The Red Cross supplied blankets, towels, toiletries, water and big tables of food. Dozens of people gathered around a large-screen TV to watch hurricane news.
Elderly people in wheelchairs and walkers sat quietly or slept, while scores of children played with some of the hundreds of rescued dogs. A father-son pair dressed in Batman costumes walked through the crowd, bringing smiles to faces of people who looked otherwise dazed, tired and wet from the slashing rains still hammering Houston.
"I'm so cold," said Irma Lutes, 71, who tried to warm up under two white Red Cross blankets in the air-conditioned hall. "But I'm happy to be here."
Fast-rising waters had forced Lutes, her husband and their son out of their Houston home and into their son's pickup truck, where volunteers in a boat rescued them a couple of hours later. The rescuers took them to a main highway where they boarded a bus that brought them and their two large dogs to the convention centre.
Lutes said she felt lucky that she had flood insurance for their house. But she said it was hard to be in a shelter at her age. She said she is a diabetic, and has severe arthritis and chronic pain in her hip. All of it felt somehow worse as she sat in a shelter.
"I have no idea what's going to happen next," she said.
David McDougle, youth pastor of First Baptist Church North Houston, said his house was about to flood when he got a phone call from firefighters asking if he could open the church as a shelter.
McDougle and his wife set up tables and chairs in the gym, and the National Guard and Sheriff's office began arriving with people in enormous six-wheeled vehicles. McDougle told authorities the gym can safely hold about 150 people, but truckloads of people kept arriving until there were between 300 and 350 people.
The McDougles provided water, Ramen noodles, canned soups, beef ravioli, hot dogs, chicken patties, a few cans of chili and more.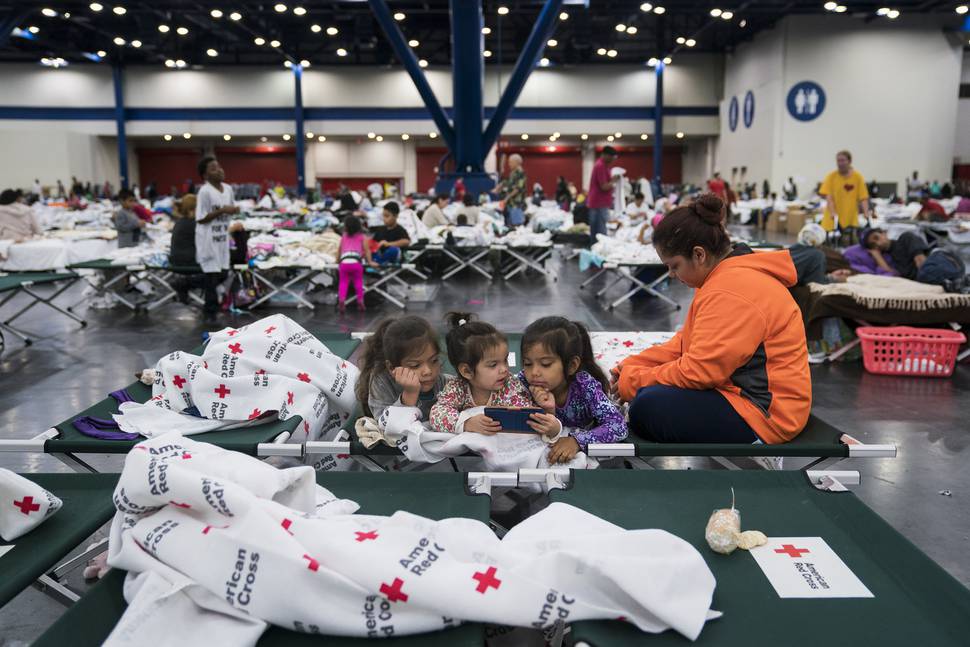 Today, floodwaters receded and about 100 people left.
"A lot of people were leaving because we didn't have food and stuff and we were trying to get them to stay because it's safer here, but they decided to venture out on their own," he said.
Donations have been flowing in since: hot dogs and tortillas from Walmart, clothing and a truckload of blankets. Church food pantry volunteers made potato soup, and they handed out toiletries that had been intended for a church mission trip.
Alex Vazquez, 22, was called up for service as a member of the Texas National Guard and said he is ready to help his fellow Texans. But he can't get to his command post because of flooding.
Instead, he and his family - his parents and two siblings - walked to the First Baptist Church shelter in the middle of the night after their single-storey home took on water. The walk usually takes five minutes, but it took more than an hour as the family trudged through waist-deep floodwaters.
Vazquez said his supervisor told him to come to the post - about 50km away - when he can.
He never thought he'd be deployed to his home town.