By Daily Mail's Jessica Dinn and AP
A former religious leader in Canada has been found guilty of polygamy after marrying more than two dozen women over the course of 25 years.
Winston Blackmore, 61, was charged with practising plural or "celestial" marriage in the fundamentalist community of Bountiful, BC after he married 25 women. Blackmore has fathered more than 145 children from his marriages.
It was Blackmore's ex wife, Jane Blackmore, who brought him down, the Daily Mail reports.
According to CBCNews Jane said in court Blackmore had told her he was "only doing what God told him to do," in having multiple wives.
BC Supreme Court Justice Sheri Ann Donegan praised Jane as a highly credible and reliable witness.
"She was a careful witness," Donegan said. "There was nothing contrived or rehearsed in her answers. She was impartial."
The trial lasted 12 days, but the case against Blackmore has been going on for decades.
In the early 1990s, Blackmore as well as accused polygamist James Oler, 53, were investigated by the provincial government. However, according to CBCNews, they were not prosecuted at the time because of confusion over Canadian polygamy laws.
In 2011 the court ruled that banning polygamy was constitutional and did not violate religious freedoms.
Oler is awaiting the verdict in his case. He has five wives and an unknown number of children.
Blackmore was accused of "a kind of conjugal union" with 24 women between 1990 and 2014, according to court documents.
Oler faced the same charge involving five women between 1993 and 2009.
The court ruled in 2011 that laws banning polygamy were constitutional and did not violate religious freedoms guaranteed in the Charter of Rights and Freedoms.
Blackmore and Oler are members of the Fundamentalist Church of Jesus Christ of Latter-Day Saints, a breakaway Mormon sect that believes in plural marriage.
The group's main base is in a small community on the Utah-Arizona border in the United States.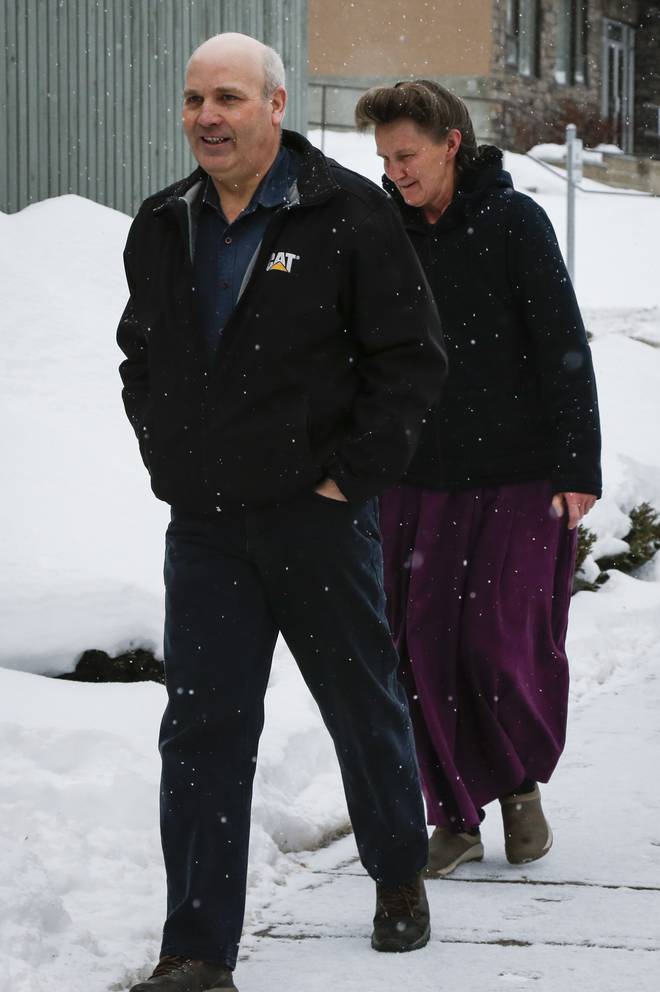 Oler was chosen to lead the Canadian community just north of the US state of Idaho following Blackmore's excommunication from the sect in 2002 by Warren Jeffs, considered the prophet and leader of the group.
Authorities have said Jeffs still leads the sect from a Texas prison, where he is serving a life sentence for sexually assaulting underage girls he considered brides.
The mainstream Mormon church renounced polygamy in the late 19th century and disputes any connection to the fundamentalist group's form of Mormonism.
Much of the evidence in the trial came from marriage and personal records seized by law enforcement at a church compound in Texas in 2008.
Judge Donegan disagreed with assertions by Blackmore and his lawyer that the records should be given little or no weight, saying she found them reliable.
Donegan said Blackmore's adherence to the practices and beliefs of the religious group were never in dispute, noting that he did not deny his marriages to police in 2009.
Blackmore even made two corrections to a detailed list of his alleged wives, she said.
"He spoke openly about his practice of polygamy," Donegan said. "Mr Blackmore confirmed that all of his marriages were celestial marriages in accordance with FLDS rules and practices."
Blackmore never denied having the wives as part of his religious beliefs that call for "celestial" marriages. He faces five years in prison.
His lawyer Blair Suffredine has already said Blackmore would challenge the constitutionality of Canada's polygamy laws if his client was found guilty.