The girlfriend of one of the three teenage siblings killed in a horror crash in far northwest NSW on Monday has revealed the last words she spoke to her boyfriend before he died.
Jack Pink, 19, was driving north in a Pantech truck full of furniture when he collided head-on with a southbound fuel tanker on the Newell Hwy near Boggabilla just after 6am.
He died at the scene and his two sisters, Marina, 17, and Destiny, 15, who were travelling behind him, were also killed as their vehicle also collided with the tanker and burst into flames.
Read more:
• Father turns back to find his three children dead in fiery New South Wales crash
• Kiwi mum mourns three 'beautiful teens' in horrific three-way crash in Australia
The teens were part of a tight-knit family of nine.
Their father Glenn Pink was travelling ahead of his three children and heard about the crash on a two-way radio. Their New Zealand-born mother Jaze went to Auckland's Long Bay College and has posted heartfelt messages of her loss.
In a Facebook post, girlfriend Monica Watkins said, "not only did I just lose my boyfriend today, but I lost my future".
The moving eulogy to Jack includes the final sentence she uttered to Jack before he set off home with his sisters and father from Dubbo in central western NSW to Beenleigh, south of Brisbane.
"My last words to you were 'I love you so much, goodnight and drive safe tomorrow' and you told me that you loved me back and told me to have a good sleep," Monica wrote.
"I just can't get over the fact that we were talking about our future last night and how you wanted to get a blue cattle dog.
"One day I will buy a blue cattle dog and I will name him Jack, because that's all you wanted."
Monica said she missed "cuddling" Jack and now felt numb.
"You were the best boyfriend anyone could ask for, you did so much for me," she wrote. "I just need you back Jack, honestly I just need you back."
Jack's sister Marina would have celebrated her 18th birthday on Tuesday.
Jaze Pink, the teenagers' Kiwi mother, left a moving tribute to Marina on Facebook saying she missed her daughter "more than words could ever say" and encouraged others to raise a glass in her honour.
Friends have also been posting on social media to mark the passing of the siblings.
"Destiny, Jack and [Marina] were all angels taken way too soon," wrote one.
Emergency services found Mr Pink at the roadside. Travelling in front, he looped back when he heard the accident on a two-way radio and discovered the carnage.
"We saw a man laying in the middle of the road when we arrived but we came straight to the burning vehicles," Mr Roberts said.
It is believed the sisters were towing a coffee cart.
On a tribute on Facebook on Tuesday, New Zealand-born Jaze Pink wrote movingly about her daughter.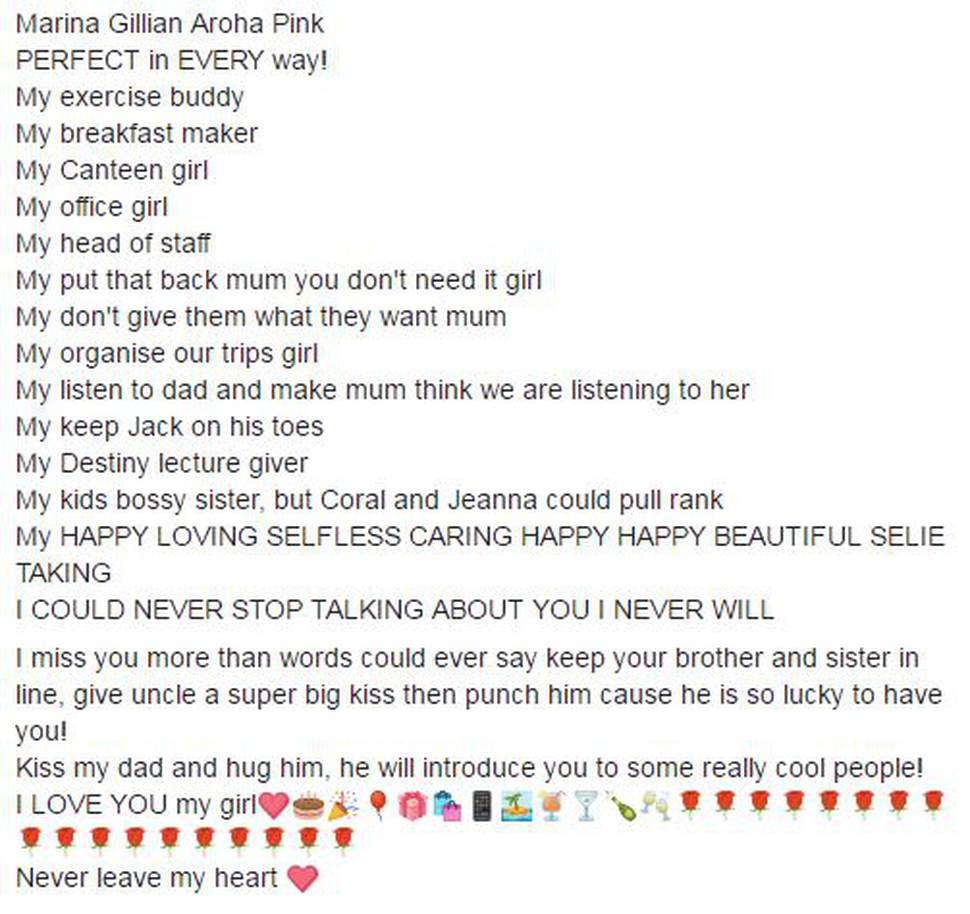 Marina was, "my happy, loving, selfless, caring, beautiful selfie taker," and " perfect in every way," she declared.
"Keep your brother and sister in line, give uncle a super big kiss then punch him cause he is so lucky to have you!
"I miss you more than words could ever say," she wrote.
Mrs Pink encouraged well wishers to buy a drink to mark what would have been Marina 18th birthday "in every good bar of every town in every city."
Other friends and family members took to social media to celebrate the close knit family.
"Destiny, Jack and yourself were all angels taken way too soon," said Jayne Russell. "Your constant happiness, infectious smile and vibrant personality will remain with us all forever and always."
Jack Gill, a friend of Destiny, said on Facebook. "You were taken from us too young. You had such an incredible, enthusiastic, beautiful soul and a loving, soft heart that deserved longer on this earth".
Jack Pink was remembered as a "beautiful person" by Idaho-Anderson Gray.
"I can't even believe I'm writing this, Life is not fair. All the showman angels will forever look after you now," said Leesha Gill of the lost Pinks.
"As you can imagine this is an incredibly difficult time for their parents Jaze & Glenn and siblings Coral, Jeanna, George & Patrick," the page reads. "Marina, one of seven children to parents Jaze and Glenn Pink, was just a day short of her 18th birthday.
"All gone at the same time ... to lose 1 would be crazy. They lost 3 in 1 split second is just out of this world," family wrote.
"Jaze and Glenn are good people with an amazing family ... what they do is everything for the kids.
"They are great people and their sacrificial love for their kids knows no bounds. This is a crushing blow to this tight knit family."
A GoFundMe page set up for the Pink family had raised more than A$85,000 by 5pm today, with a goal of A$100,000.
The driver of the petrol tanker was thrown from the vehicle and was flown to Toowoomba Hospital with face and back injuries.
The grisly scene remained nearly untouched 12 hours after the crash as NSW Fire and Rescue crews worked to empty the tanker before the bodies and significant wreckage could be removed.
Extra resources were being deployed from Sydney to help Barwon area police, and crash investigators from Tamworth were called in.
"It's just a dead boring stretch of highway," one local said. "Unless you go all the back tracks ... that's the way you go to Sydney."
Barwon Police Detective Inspector David Silversides said his officers were constantly asking people to take care on the Newell.
"There is an ongoing message to the community to be mindful of fatigue and all those other factors," he said.