Dramatic footage shows a French pensioner fighting back against a gang of suspected child pickpockets who tried to rob him at a cash machine.
The four children, thought by police to be part of a pickpocket gang, are seen surrounding the man in a brazen attempt to snatch his money or look at his pin code.
He hits one of them around the head before chasing them away from the cash machine, footage obtained exclusively by MailOnline shows.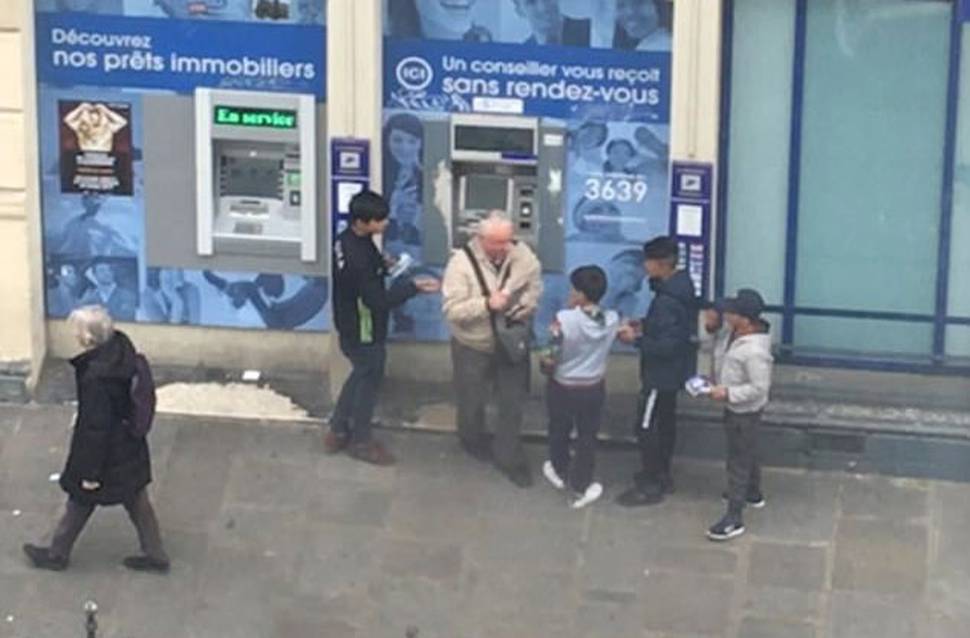 "It was a worrying scene," said a witness. "The man was outnumbered, and the boys were clearly trying to steal from him. He looked extremely intimidated, but wanted to stand up for himself."
The incident occurred in the French capital's 1st arrondissement, at a cash point that has become a magnet for criminals.
Police estimate it is "hit" up to 20 times a day by gangs from Romania and Bulgaria, many of them boys and girls in their early teens.
On Monday morning the man, who has not been identified, became the latest victim to feel delving hands around his body as he made a withdrawal close to Notre Dame Cathedral and the Louvre museum.
The boys were trying to distract him, seemingly to snatch the money from his hands or see his pin so they could later steal his card in a scam which has been used time and time again at the cashpoint.
After the man challenged the gang, and swiped one member around the head, the tallest boy wearing a distinctive black and green Chelsea football club training top spat at him.
This was a cue for the man to lunge towards the boys, and then chase them down the street while shouting loudly. All managed to get away.
The boys are believed to be members of a gang who are often supported by older men and women who act as "minders" in case of trouble.
But police seldom bother arresting Roma youngsters because they have no papers, and claim they are below the age of criminal responsibility.
"We see a lot of these kids," an officer told MailOnline after seeing the footage. 'They see themselves as untouchables, but we do our best to stop their stealing."
Paris is the most popular tourist destination in the world and the British make up the city's biggest visitor group, but its battle against the Roma is a losing one.
During the current French presidential election campaign, politicians have complained about the lack of interest in dealing with thousands of often-unschooled Roma children.
Senator Esther Benbassa told a press conference last month that "Anti-Roma discrimination is unanimous in society and in the press .Their differences are the sources of discrimination."
Benbassa, of the Europe Ecology movement, said far more effort was needed to take children off the streets, and give them an education.
Charity and human rights groups were furious in 2014 when a leaked police memo called for the "systematic eviction" of Roma from the centre of the city.
A spokesman for charity group Catholic Help described the note as a "scandal", saying that it "stigmatised a poor community" and amounted to "racial profiling", which is illegal in secular France.
But other Paris officials claimed that Roma are behind much of the street crime in the city.
Many of the beggars who congregate around cash points and banks have very young children, including babies, with them. Most of them live in large shanty towns on the outskirts of Paris.
The Socialist government has continued a policy started by former President Nicolas Sarkozy of razing Roma camps, and trying to deport as many of their occupants as possible.
This has led to protests from a number of human rights groups, including Amnesty International, which points out that most of the estimated 20,000 Roma in France are EU citizens with the right to live and work in the country.