Richard and Connie Dabate seemed like the perfect couple.
Photographs show husband and wife with their arms wrapped around each other, smiling widely, their eyes bright with happiness.
In family portraits, their hands rest protectively on the shoulders of their two young sons, love and pride written all over their faces.
But appearances can be deceiving and police will allege Richard "Rick" Dabate was anything but a devoted husband; he wanted his wife dead.
In 2015, two days before Christmas, Connie was gunned down in the family's Ellington, Connecticut, home in an apparent burglary gone wrong.
Dabate told police that a masked man dressed in camouflage gear shot his wife and tied him to a chair. He claimed he narrowly escaped with his own life by burning his assailant with a blowtorch, causing the man to flee.
When police arrived, they found Dabate tied to a chair on the floor and his 39-year-old wife dead with gunshot wounds to the back of her head and her stomach.
Dabate told the officers that he'd been on his way to work after dropping the kids off at school when he received an alert on his mobile phone that the burglar alarm at home had been set off.
- news.com.au
Knowing Connie would be in the middle of her spin class at the YMCA, Dabate made his way back to the house. He claims that once inside, he was confronted by a masked intruder who threatened to harm his wife and children unless he handed over his wallet and bank account Pin numbers.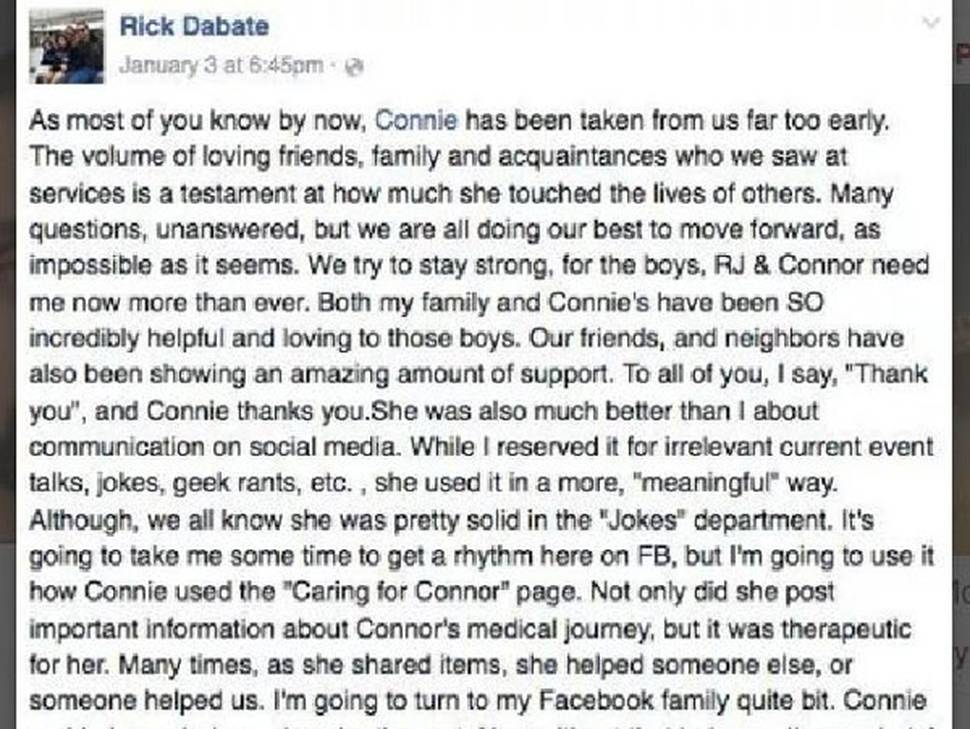 "Dabate stated he heard something upstairs and he went to check it out. He heard a noise in the master bedroom, which door was half closed," police said in an arrest document obtained by the Hartford Courant.
"Dabate stated he opened the bedroom door and saw the intruder in the closet looking through things. [He] stated the intruder was about 6'2" [1.8m], larger than he was, and was wearing a dark green camouflaged suit and mask," the statement said.
"The intruder then noticed he was in the room, and he (the intruder) pulled out a knife. Dabate said the intruder then said something like, 'give me your money, your wallet and your PIN numbers, and if you don't, I'm going to wait here for your wife and kids'."
Dabate then reportedly revealed that the intruder had a "deep voice, like the actor Vin Diesel".
"Dabate stated he was about four feet from them and running. The intruder then shot the gun, and he thought he saw a flash," the police statement continued.
"He then closed his eyes and fell to the ground. Dabate stated his ears were ringing, and he thought he heard another shot.
"Dabate stated he then got up, and saw (his wife) on the ground. Debate stated the intruder came towards him and did some sort of 'pressure point thing' on his neck and wrist while walking him 'like a dog'."
After Connie's death, Rick even posted a touching tribute to his wife on Facebook.
"As most of you know, Connie has been taken from us far too early," he wrote.
"The volume of loving friends, family and acquaintences we saw at services is a testament at how much she touched the lives of others."
The shocking crime remained a mystery until last week, when police laid murder charges against Rick Dabate.
Police will allege the 40-year-old IT worker concocted a bizarre and elaborate story to cover up his plan to kill Connie so he could marry his pregnant mistress - a childhood sweetheart he'd allegedly been having an affair with for seven years.
Police and family members had been suspicious of Dabate's version of events from the start. His story kept changing, seemingly becoming more detailed and outlandish with each retelling.
They knew Connie had been shot with a .357 Magnum - the same type of gun her husband had bought just two months earlier.
When detectives confronted Dabate about his pregnant girlfriend, he claimed she was acting as a surrogate for him and his wife, who had agreed to the arrangement after discovering she was unable to have another child.
Months of digging turned up more marital secrets and lies, including financial documents allegedly showing Dabate had taken out a credit card behind his wife's back, using it to pay for flowers for his lover, secret trysts at a Motel 6 and rack up US$1200 ($1750) at a strip club.
According to police documents tendered to court, detectives learned that Dabate tried to cash in Connie's NZ$515,000 life insurance policy just five days after her murder but the insurance company denied his claim. Two years earlier, he had stopped making payments on his own policy. In January 2016, he withdrew more than NZ$97,000 from an investment account that belonged to his wife.
The investigation would take many months and relied heavily on police reviewing a wide array of digital footprints from cellphones to laptops to security alarm records. Police also used Connie Dabate's Fitbit, which she had worn to her spin class on the morning of her death, to retrace her last steps.
Those records showed her final movements inside the home were at 10:05am - nearly an hour after Richard Dabate told detectives she had been killed by the masked intruder.
"To say it is rare to use Fitbit records would be safe," District Attorney Craig Stedman told the Hartford Courant.
In a previous case, Stedman used Fitbit records to prove that a woman had fabricated a story about a stranger breaking into her home and sexually assaulting her.
"It is an electronic footprint that tracks your movements," he said. "It is a great tool for investigators. We can also get the information much faster than some other types of evidence such as DNA tests."
Dabate has been bailed before his next scheduled court appearance tomorrow.
He faces charges of murder, tampering with evidence and making a false statement.